Three Short Christmas Stories among AnchoredScraps Favorites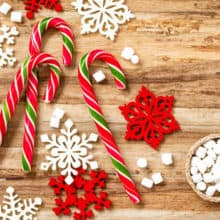 Today is a real treat of sharing Three Short Christmas Stories that are among my AnchoredScraps Favorites, each a daily post written during my first Christmas here two years ago in 2015.
On this Monday kicking off the new week, I've got "THREE" on my mind. There is that old adage of things happening in sets of three. Noteworthy among things with three – Three weeks from today is New Year's Day 2018! Three Weeks!
In that spirit here are three Christmas short stories, each I blogged about my first Christmas here at AnchoredScraps.
Whether you are new to my blog or recall when reading these when I was first posting them they are among my favorites. Each of these is uplifting and I hope you will enjoy reading, and/or revisiting them!
Three Short Christmas Stories among AnchoredScraps Favorites
Wishing you a few minutes to stop, and enjoy these, perhaps next to the fireplace. Who knows, it might inspire you to write a few Christmas cards afterward! 

Anchors Aweigh,  
Helen
---
Three Short Christmas Stories Attribution & Thank you to the following who are referenced today
Dreamstime, Candy canes lollipop with christmas decorations on wooden background ID 63050287 © Photomailbox | Dreamstime
All images above referenced in these AnchoredScraps letter writing posts: "A Cup of Christmas Tea" (Tom Hegg) 12-15-2015; "The Red Glass Bowl" (Margaret Weymouth Jackson) 12-17-2015; and "Let's Keep Christmas" (Peter Marshall) 12-21-2015.