Gingerbread Christmas Trifold Notecards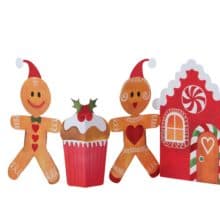 You'll be wanting to have these Gingerbread Christmas Trifold Notecards on hand for letter writing while baking gingerbread!
First, there are some beautiful gingerbread houses in our family scrapbooks on photos from Christmas past, showcasing a  most talented family member baking them from scratch! She is also an AnchoredScraps email blog subscriber here – waving at her from across the cyber miles today!
Second, my best of good intentions usually find me thinking about baking the gingerbread! Instead of baking, I'll put together some Aroma Punch and put on the cookstove top, including Allspice, and cloves.
Furthermore, I'm recalling these Gingerbread Houses Stamps I was seeing in sets of five booklets at Costco back in 2015.
Gingerbread Christmas Trifold Notecards
The cards are by Galison, Author, and Margaret Berg as the Illustrator.
The product dimension is 5.5 x 1.2 x 7 inches.  I'm thinking it would be fun to embellish plain white envelopes with peppermint red striping on it!
As we continue to get closer to Christmas,  I'm going to have to put together some Aroma Punch on these colder days! And just when he thought the day had gotten by without having attention paid to the date, Wishing a Happy Birthday to Bruce!
Helen
---
Attribution & Thank you to the following who are referenced today
Image Gingerbread Men Close up of Gingerbread Men in a plate with decor ID 34761630 © Jennifer Barrow  Dreamstime
Gingerbread Tri Fold Notecards image, and description
AnchoredScraps Hello December ! 12-01-2015, Gingerbread House Stamps, image, USPSStamps