If you love fountain pens beautifully showing off color symphonies you will want to be ordering the Goulet Fountain Pen 2018 Calendar!
We are welcoming the month of December 2017 this morning. LOVE this for encouraging our letter writing seeing these calendar pages.
Goulet Fountain Pen 2018 Calendar
As soon as I saw this calendar yesterday I immediately was placing my order.  To begin with, there is a tweet from 21 November 2017 announcing the calendar.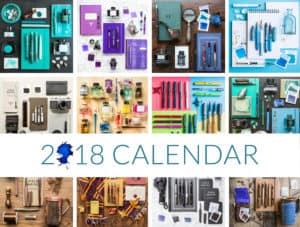 The Goulet Pen Company Team has on their listing for it a link to their blog post on it too.
"Our first Goulet Pen Company calendar is here! Featured across the 12 months of 2018 will be some our favorite "Thursday Things", which are arranged and photographed for our blog and social media channels each week. Closed, the calendar is 10.3" x 11" which doubles in height while displayed. The paper is not fountain pen friendly, but was intentionally selected to vibrantly showcase the photos."
The calendar pricing is at $11.95, with shipping my total came in right under $17.50.
From their site: "They are only available for a short time so get yours today!"
Some of my pen pals do a fantastic job with their fountain pens when letter writing explaining what color ink and nib of the pen they are using to write.
My thanks to the Goulet Pen Company Team for putting together their first calendar – here's to letter writing inspiration with these fountain pens in 2018!

Anchors Aweigh,  
Helen
P.S. In case you are wanting to learn more about WordCamp. The grand finale of the year WordCamp US 2017 kicks off today running through Dec 3rd in Nashville, TN. You can register for free Livestream ticket for during the event. #wcus
---
Goulet Fountain Pen 2018 Calendar Attribution & Thank you to the following I'm referencing today for my daily blog post encouraging letter writing –
@GouletPens Twitter
choredScraps Pokémon GO Fountain Pens & Miami Pen Show  07-16-2016