There is a tremendous selection of Holiday Train Cards at the National Railroad Museum Holiday Card Center.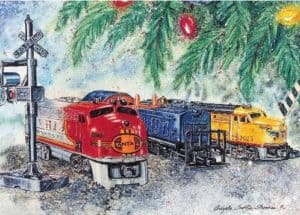 On this first Saturday in December I've got Christmas and Trains on my mind.  There are three more weekends until Christmas. Earlier today seeing the new Murder On The Orient Express movie was a wonderful way to spend the afternoon. Kenneth Branagh has done a fantastic job with not only starring in the Agatha Christie classic but also directing it. I'm so happy to be reading there will be a sequel to it with Death on the Nile.
Earlier this week Hallmark was showing their movie adaptation of The Christmas Train.  Joining the movie mid-way it took a few minutes for me to realize I had read the book by David Baldacci (2003) when it first came out!
National Railroad Museum Holiday Card Center
The image I'm showing here is of their "Christmas Memories II" Holiday Train Card.  There are 25 cards and 26 envelopes in the set. The sizing of the card is 7 1/4″ x 5 1/8″.
National Railroad Museum
"Celebrate the season by sending cards that show your support of National Railroad Museum's mission – to inspire lifelong learning by providing dynamic educational opportunities through the preservation of railroad objects, engaging exhibits, and innovative programs.

You can click on this to link to the National Railroad Museum, Holiday Card Center, image

To learn more about National Railroad Museum's important work, please visit their website at http://www.nationalrrmuseum.org."

Holiday Card Center
"For over 20 years, the Holiday Card Center has provided Holiday card programs to organizations with a strong affinity appeal to their passionate constituents, focusing mostly on nonprofit clients. The Holiday Card Center provides consumers with unique products that are tailored to their interest, passion, or lifestyle – the purchase of which supports a cause that is important to the consumer." …
Have fun exploring their site!
As we wrap up today's post, I'm including this link to the trailer for Murder On The Orient Express.  Also, this isn't my first time for me to mention Kenneth Branagh on my blog.  Back on October 25, 2015, my post included his Henry V his speech prior to the Battle of Agincourt in a YouTube of the 1989 movie.
It is not too early to begin getting the Christmas card list together! Join me tomorrow for my Sunday blog post. In the meantime, I'm hearing the distinct whistleblowing sounds of the train and choo-choo!

Anchors Aweigh,  
Helen
P.S. Polar Express fans stay tuned for a future blog post with our letter writing to Santa pursuits!
---
National Railroad Museum Holiday Card Center Attribution & Thank you to the following I'm referencing today for my daily blog post encouraging letter writing –
National Railroad Museum Holiday Card Center  Holiday Train Cards // Christmas Memories II, Image, excerpt.
AnchoredScraps blog post: Henry V & 600th Anniversary Battle of Agincourt 10-25-2015