There is a unique collection of Vintage Christmas Postcards in a book with its first printing in October 2013.  It is from the personal collection of Kenneth Abramowitz, editor; seeing the time he has taken to scan them and making color adjustments is apparent.
The collection of early 1900's Christmas postcards printed in both Europe and the U.S. is nicely done.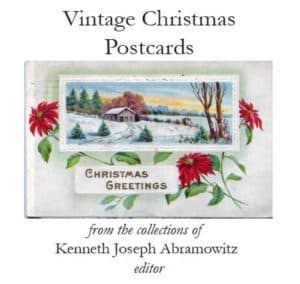 Seeing the crisp penmanship of the handwriting is nice to view. "The goal is to replicate them as they are, aged, but still vibrant".
Over at his website it is showing the Vintage Christmas Postcards first editions along with sample selections for viewing. The images are also showing the stamps and cancels. The book contains "50 Full Color Pages of 25 postcards prints front and back!" I'm also finding the book on Amazon.
"Enjoy original century old Christmas Postcards prints- front and back, from the collections of archivist Kenneth Abramowitz. All cards were addressed in America, but produced in both Europe and America. The early 20th Century is the vanguard of postcards- embossed and hand-painted. Each card, front and back have been digitized and restored for color and contrast, but aging imperfections preserved. Delight in the holiday spirit, handwriting, personal messages, and artwork!"
If you are new to my blog, one of the aspects of letter writing I love is postcards! Have fun exploring!
Helen
---
Vintage Christmas Postcards Book Attribution & Thank you to the following who are referenced today
Vintage Christmas Postcards book by Kenneth Joseph Abramowitz, Editor, image. Excerpts from website.
You may also enjoy from last year, AnchoredScraps letter writing post on Nutcracker Stamps Puzzle Postcards 12-23-2016