Norman Rockwell A Book of Postcards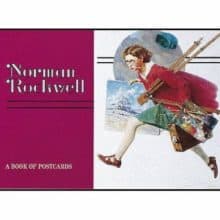 We are looking today at a book from 2010, Norman Rockwell A Book of Postcards.
Before we begin, if  you have found yourself today feeling like it is earlier than it is, we can thank Daylight Savings Time.
In addition, this next Saturday is St. Patrick's Day and there is still time to mail off any letters and/or cards to get the St Patrick's Pictorial Postmark.
Norman Rockwell A Book of Postcards
First, I'm always looking for more books to collect with letter writing as some aspect of the theme.  I have had a few blog posts over the past three years here that have included Norman Rockwell; getting to see a book like this of some of his work as postcards has me ordering one!  Seeing the size for it as "6.9 x 0.4 x 4.8 inches" means I'm thinking 5 x 7 in size.
There are thirty postcards shown in the book of his illustrations.
"Few artists have captured the essence of the American middle class with the warmth, gentle humor, and charm of illustrator Norman Rockwell (18941978).
Remembered for the several generations of Saturday Evening Post covers he illustrated, Rockwell had a genius for creating stop-action scenesan art student racing to her next class, a small dog stubbornly blocking trafficmoments with which viewers could easily identify…"
As we wrap up, I'm including the link here for details for sending off for the 2018 St Patrick Pictorial Postmark. Here's to a GREAT week ahead! See you tomorrow as we kick off a new week.

 Anchors Aweigh,  
Helen 
P.S. Today is daily blog post #1110 since launching AnchoredScraps on February 26, 2015!
---
Attribution & Thank you to the following who are referenced today
ThriftBooks, Norman Rockwell A Book of Postcards, Cover, description excerpt. Amazon too
You may also enjoy these AnchoredScraps daily blog posts: Spring Ahead 3-07-2015; Saving daylight postcard 1918 3-13-2016; One more Dad character (and a poem) 6-20-2015;  Thank a Mailman Day 2-04-2016; Complement Thursday: 'Little Boy' movie 4-23-2015;  2018 St Patrick Pictorial Postmark, 3-03-2018