First Day of Spring 2018 & Upcoming Peace Rose Forever Stamp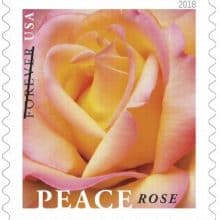 With today being the First Day of Spring 2018, I'm finding it inspiring knowing there is the upcoming Peace Rose Forever Stamp arriving in one month! My Spring Letter Writing is wishing these were already available to send out with Easter cards going out into the mail this week. It will be fun using these stamps when they arrive towards the end of the April National Letter Writing Month long event; there will be nine more days remaining at that point.
If you are new to my daily blog, at the end of today's blog, is a listing of previous posts from this day for 2015, 2016, and 2017.
Upcoming USPS Peace Rose Forever Stamp
In the Postal Bulletin last week, it is showing the Upcoming USPS Peace Rose Forever Stamp. Beginning on April 21, 2018, it is being made available in a double-sided booklet of 20 stamps.
"The new Peace Rose stamp celebrates one of the most popular roses of all time. The stamp art features a detail from a photograph of the Peace Rose blossom and its creamy yellow petals, with a touch of pink on the edges. The rose revolutionized hybrid tea roses with its unique coloring, hardiness, and disease resistance…"
Previous First Day of Spring Letter Writing AnchoredScraps blog posts
Within these blog posts are some flowers! In the 2017 post, it includes recalling the scene from the movie Ground Hog Day with Bill Murray in the Hallway towards the end of the movie with an exchange about will it be an early spring".
As we wrap up, for those of us writing letters during Lent, today finds us during Week Five out of six weeks during Lent, leading up to Easter. It is a delight to share I was able to make two of the five Lenten Lunches this year; today was the last one and it was inspiring to hear about serving with passion, boldness, and joy when giving. 
Thank you for joining me today. See you tomorrow with my Wednesday blog post!

 Anchors Aweigh,  
Helen 
Attribution & Thank you to the following who are referenced today
Image, excerpt – Postal Bulletin, Issue 22489, 3-15-18, Stamp Announcement 18-12, link above.
AnchoredScraps daily blog posts as listed above with links, and Write_On 2018 Letter Writer Kits 3-10-2018; Letter Writing Journey During Lent 2018, 2-20-2018