Letter Writing Envelope Ruler Addressing Template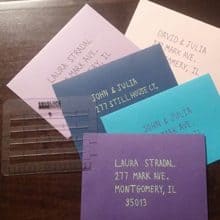 Today we are looking at a stationery letter writing tool one can use for an Envelope Ruler Addressing Template.
First, I'm seeing where this stationery letter writing tool is looking  similar to one previously seen here; today's post finds me recalling one from back in 2016. Furthermore, I'll be sharing more on that at the end of today's post.
Letter Writing Envelope Ruler Addressing Template
We are beginning with this description of the Envelope Ruler Addressing Template Set. It"… includes All Items For Letters: Ruler Template, Set of 5 Envelopes (6.38 x 4.45 in) and Perfect Stamp Stickers"
"Best Results – Fits Every Size, Including Wedding Envelopes, No More Squiggly Words

Best Effect – Create Lasting Memories For Friends and Family

Easy To Use – Accurate Placement On Any Envelope, Postcards, Return Addresses, Boxes"
Another plus is the pricing. It is less than $7. It is eligible for Amazon Prime two-day shipping.
Recalling the Lettermate Envelope Addressing Guide
If the function of the Envelope Ruler Addressing Template above is sounding a little familiar, you may recall a blog post from June 2016. We were looking at the Lettermate envelope addressing guide; we will see some similarities with the template itself.
In addition, perhaps you will consider adding one of these template tools to your letter writing supplies!
Thank you for joining me today.
As a reminder today is Day 3 of National Letter Writing Month. Have fun writing a letter today, and hopefully every day this month!

Anchors Aweigh,  
Helen 
---
Attribution & Thank you to the following who are referenced today
Envelope Ruler Addressing Template, link above, excerpt, image.
AnchoredScraps daily blog posts: Lettermate envelope addressing guide 6-22-2016; April National Card and Letter Writing Month 2018 4-2-2018.