Pattern Box Contemporary Patterns Postcards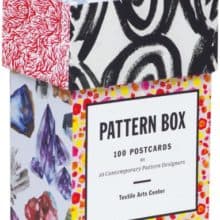 Being constantly on the lookout for different postcards, it is fun to discover this Pattern Box Contemporary Patterns Postcards Box Set.  It was just last April we were looking at the Marimekko 100 Postcards Card Book.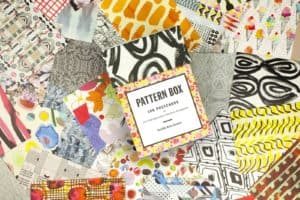 There are 100 Postcards in the set. It is a collection by Ten Contemporary Pattern Designers. The pricing for the set is listing at less than $15.
"Curated by New York City's celebrated Textile Arts Center, this vibrant, pattern-filled collection features one hundred postcards from ten international designers. Housed in an equally vivid keepsake box, the postcards are ideal for correspondence, enclosure notes, and inspiration boards alike. The set also includes a booklet about the designers, highlighting their creative processes and influences."
Please note, I have not ordered these postcards yet so do not know of their thickness or ease of writing a postcard message onto them. They look worth ordering which I'll be doing here very soon. If you happen to order these before I do please drop one into the snail mail to me!
In the meantime, Happy National Card and Letter Writing Month as we continue with the idea of getting thirty cards and/or letters into the mail during the month of April.

 Anchors Aweigh,  
Helen 
---
Pattern Box Contemporary Patterns Postcards Attribution & Thank you to the following who are referenced today
Pattern Box: 100 Postcards by Ten Contemporary Pattern Designers by the Textile Arts Center, images, excerpt.
You may also enjoy AnchoredScraps daily blog post: Marimekko 100 Postcards Card Book & Marimekko Unikko Notecards Stationery 4-29-2017