Krispy Kreme Vintage Postcard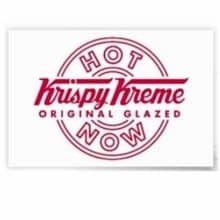 On this Sunday morning we are whimsically looking at a Krispy Kreme Vintage Postcard. It is Day 2 of WordCamp Raleigh 2018. And we are welcoming the newest AnchoredScraps email blog subscriber this morning!
WordCamp Raleigh 2018 Presenter Andrea Ferguson
First, today's post, Krispy Kreme Vintage Postcard, is finding its inspiration from my attending Andrea Ferguson's presentation at Day One of WordCamp Raleigh 2018 yesterday.
Second, her WordCamp presentation – "We Like Big Buttons & We Cannot Lie: User-Friendly Design Tweaks for Your WordPress Website" was fantastic! It included illustrating a design point referencing the Krispy Kreme logo.
Third, It was a surprising treat at the end with her team passing out Krispy Kreme donuts for everyone!
Subsequently, be on the lookout in the next few weeks for some tweaking to my AnchoredScraps site. This will be in parallel to reaching my letter writing post Milestone of daily blogging for #1,200 days! Today is daily blog post 1,159.
Krispy Kreme Vintage Postcard

Over at Redbubble there are different Krispy Kreme postcards available for ordering.
Furthermore, one of my previous blog posts was on Redbubble include March Madness Basketball Postcards (3-18-2016).
In conclusion, as we wrap up today's post, it is a joy attending the WordPress sessions. Getting to meet new WordPress enthusiasts is fun! It is especially enjoyable to connect first time WordCamp attendees with others, my sincere Thanks to the Organizers of WordCamp 2018!
Join me tomorrow for my April Month Recap of all of my daily blog posts this month encouraging old-style correspondence letter writing.
There is still time to write letters part of the National Letter Writing Month April event. Happy Sunday – I'm off for Day 2!

Anchors Aweigh,  
Helen
---
Krispy Kreme Vintage Postcard Attribution & Thank you to the following who are referenced today
Redbubble Krispy Kreme Vintage Postcard, image
WordCamp Raleigh 2018 website
Krispy Kreme Website
AndiSites Inc. – friendly web design & development website
AnchoredScraps daily blog post referencing above