WPS Sponsoring USS NC 10th Anniversary Cancel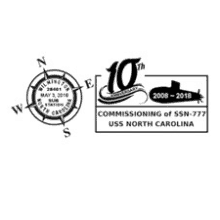 It is fun to share the Wilmington Philatelic Society (WPS) is Sponsoring the USS NC 10th Anniversary Cancel. If you are local to the Wilmington, NC area mark your calendar for next Thursday.
On this Saturday morning, I'm posting early prior to heading off to WordCamp Raleigh with fellow WordPress enthusiasts! Happy Saturday!
Wilmington Philatelic Society Sponsoring USS NC 10th Anniversary Cancel
Before starting, here is a link to a 2010 CNET "Inside the world's most advanced submarine".
This is a special pictorial postmark May 3, 2018 cancel for the nuclear submarine USS North Carolina's 10th Anniversary of Commissioning. WPS stamp club member Richard Porcelli did the design.
If you are new to my daily letter writing blog you may not be familiar with the term "cancel".  Quoting myself from previous blog posts on pictorial postmarks – "It is for commemorating a special event through the USPS, usually with the date and related image."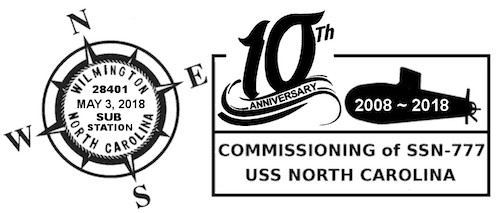 Furthermore, the reason I'm posting this today is for advance planning to allow time locally for arranging to be in Wilmington at the Downtown Post Office next Thursday, May 3rd.  
To view the instructions for to submit a mail order request click here. If requesting by mail, make sure to have it postmarked no later than 30 days out.
Trivia fact for a future AnchoredScraps Trivia quiz: The pictorial cancel we are discussing today, The USS NC 10th Anniversary Cancel, is designed by the same Richard Porcelli who designed the envelope cachet celebrating my AnchoredScraps 1000th Daily Blog post back on November 21, 2017! Today is daily blog post 1,158.
In conclusion, my thanks today to my stamp club buddies Jimmy and Richard and the entire WPS Board for making stamp collecting such a fun hobby!
Wishing you a great Saturday ahead! Join me tomorrow for my Sunday blog post.

Anchors Aweigh,
Helen
---
Attribution & Thank you to the following who are referenced today
Pictorial Postmarks Announcement 04-26-18 USPS Postal Bulletin 22492, link above.
CNET Road Trip 2010: Aboard the Virginia class sub, North Carolina, CNET reporter Daniel Terdiman sees how the Navy has taken submarines and added servers, wireless networking, and digital periscope visualization. BY Daniel Terdiman 
AnchoredScraps letter writing blog post as listing above. July 4th Special Fancy Pictorial Postmarks, 6-26-2016; Hanover Kennel Club Dog Show Pictorial Postmark 10-14-2017