Toomers Corner Note Cards – "The Corner"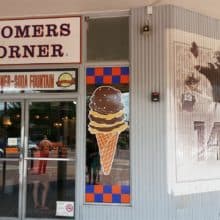 Today has found me discovering Toomers Corner Note Cards while in town visiting Auburn and stopping into the famous Drugstore.
"Toomers Drugs® has been an Auburn tradition since 1896. A visit to Auburn would not be complete without visiting Toomers Corner® on the corner of Magnolia Ave and College Street."

Toomers Corner Note Cards – "The Corner"
"The Corner" is the name of their Toomers Corner note cards with 10 cards and 10 envelopes; the pricing is at $16.00.
In addition, it is fun seeing their ToomersDrugs website, showcasing their history and it has an online shop with souvenirs.
People were ordering their "World Famous fresh squeezed lemonade", the restaurant was open and it was busy!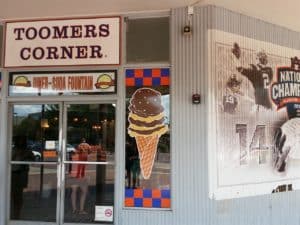 The store was beautiful, friendly, and of course I did get to pick up a postcard. The ones I wanted they are out of but they said to please call back and we could look at getting some sent to me.
All the photos are from the ones by me photographing earlier today.   If you should find yourself visiting a college campus soon with the fall semester around the corner, see if you can't find something similar for stationery.  Have fun exploring!

 Anchors Aweigh,  
Helen 
---
Attribution & Thank you to the following who are referenced today
Toomers Drugs, excerpt
You may also enjoy AnchoredScraps Greetings From State Rubber Stamp 9-17-2017