Turning The Tide WW1 Collectible Cachets

We are looking at the Turning The Tide WW1 Collectible Cachets for envelopes; it was for a special event in San Francisco held earlier today.
Before getting started my sincere thanks to Frank Skidmore for sending the email from the World War One Historical Association over the weekend and to Ellen Fuller for the Wreaths Across America Armistice Day tie-in below with a t-shirt and a Challenge Coin.
Turning The Tide Collectible Cachets
Back on January 7, my blog post was on "USPS Select 2018 Stamps include World War I Turning the Tide Forever Stamp". The stamp is for commemorating "… the 100th anniversary of the Armistice that ended World War One entitled Turning the Tide."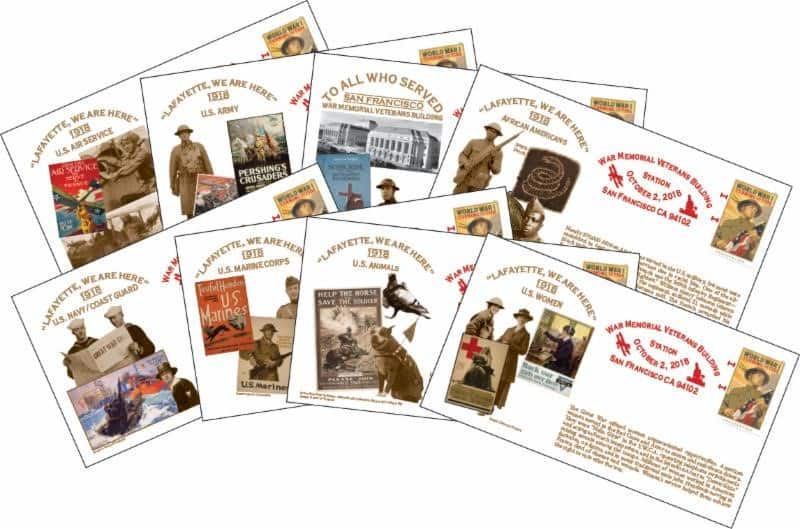 From the September 29th email from the World War One Historical Association:
"… This stamp, along with unique envelopes called cachets, will be offered during a special event for collectors, historians, and supporters of our military. Sale hours … on Tuesday, 2 October, in the War Memorial Veterans Building at 401 Van Ness Avenue, San Francisco 94102, …

There are eight different themes about America's participation in World War One: U.S. Army, U.S. Navy/Coast Guard, U.S. Air Service, US Marine Corps, U.S. Women, African-Americans, U.S. Animals, and the War Memorial.  Each cachet shows a collage of images including period posters and photos of men and women. Each cachet also tells a story about the role they played in helping to win the war. "
What I'm now in pursuit of is finding out how one can acquire the set of Turning The Tide WW1 Collectible Cachets afterward.
Furthermore, in the current USPS Postal Bulletin 22503, it is showing a Pictorial Postmark available for requesting from today, along with details for requesting.
Upcoming Wreaths Across America Veterans Day 2018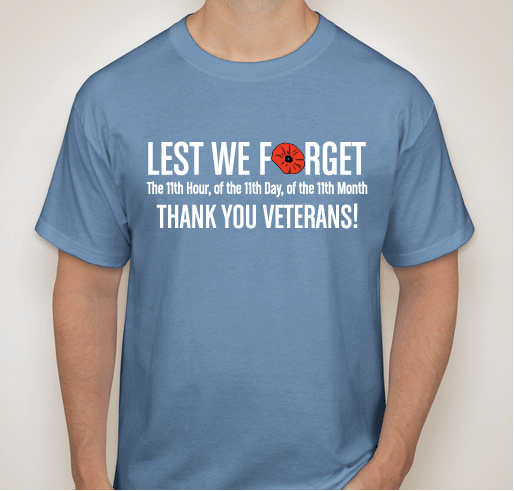 On a related note, my thanks again to Ellen, a volunteer with Wreaths Across America, for sharing two things that originated with Armistice Day:  Veterans Day remembrances (the 11th honor, of the 11th day, of the 11th month) and red poppies (the links to my blog posts "In Flanders Fields" poem is below).
There is a special Wreaths Across America – Veterans Day 2018 t-shirt for $25 that will support the placement of a wreath on a veteran grave this December 15th.
In addition, Wreaths Across America (WAA), is recognizing another tradition that began in WWI:  challenge coins. If you'd like to "DO GOOD TWICE", you can get a limited edition WWI-100 / WAA  challenge coin and sponsor a wreath for $25;  email waatexas@gmail.com for more information.
As we wrap up, my sincere thanks again for the emails from Frank, and Ellen today. The timing for their contributions was perfect and much appreciated!

Anchors Aweigh,  
Helen
---
Turning The Tide WW1 Collectible Cachets Attribution & Thank you to the following who I am referencing today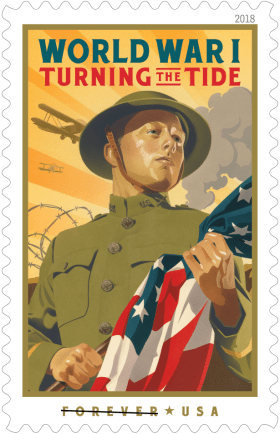 Special Collectible WW1 Stamp Event at SF War Memorial, World War One Historical Association
USPS Postal Bulletin 22503; September 27, 2018, image, excerpt
You may also enjoy AnchoredScraps Dear Leona by Frank Skidmore 1-22-2017; Great War Picture Postcards 1914-1918 7-01-2016;  "In Flanders Fields"; "USPS Select 2018 Stamps include World War I Turning the Tide Forever Stamp" 01-07-2018; "In Flanders Fields" 5-23-2015