Thankful Pumpkin Stationery Greetings is a purrfect title for our post today.
Over at the Etsy LittlebPrints is this Set of 10 Thankful Pumpkin Stationery Greetings Notecards.
Also, Cooper sends a warm welcome to a newly adopted kitten named Pumpkin, by one of our dear friends and AnchoredScraps muse.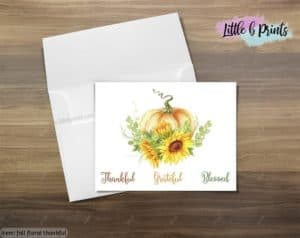 "Note cards by LittlebPrints are fun to send and receive. They are purfect for using for thank you cards, invitations or announcements. Our personalized card sets also make great gifts."
"Item Details:
Set of 10 A2 size – 4.25 x 5.5 inch cards
White envelopes with press and seal flap are included
Choose a flat or folded card style with traditional square corners or rounded corners…
In closing, I'm including this aside. My blog writing today is being done remotely thanks to my smartphone. It is interesting typing with my right thumb wrapped in a bandaid! It is a long story … suffice it to say the bandaid is for protecting my gel nail polish that JUST decided to "lift" in the corner a day after being applied. Called a girlfriend and she suggested the bandaid, may be able to keep it from actually breaking off; and worst case is better than showing "chipped" polish. So much for getting all spiffed up before big Thanksgiving gathering tomorrow! What is funny is everyone there tomorrow reads my blog so they'll know why the bandaid!  Perhaps my bandaid story will come in helpful for someone tomorrow traveling if they run into something similar.
Here's to safe travels and see you here tomorrow.

Anchors Aweigh,  
Helen  
---
Attribution & Thank you to the following who I am referencing today
ETSY, image
HR Addendum January 25, 2019, updating formatting and slight grammar adjustments for SEO from desktop