The Snoopy Thanksgiving Hallmark eCard is the newest one I'm seeing available here in their PEANUTS® Thanksgiving eCards & Greetings Cards series.
While personalizing one Snoopy Thanksgiving Hallmark eCard for sending, it has the Introducing Handwritten eCards screen which lets you have the text be in a script format that you select which closely resembles your own. The "Make It Handwritten" is optional for the font.
Snoopy Thanksgiving Hallmark eCard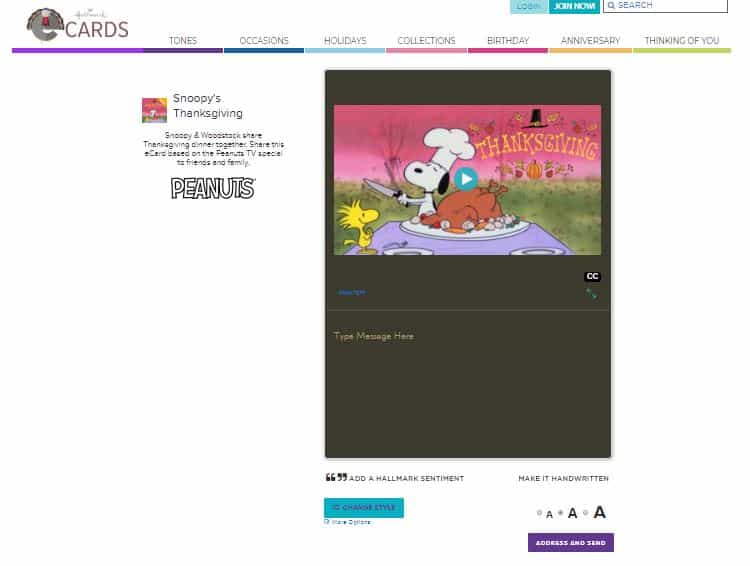 The Snoopy Thanksgiving Hallmark eCard appears to be what they are calling a "Premium" eCard.  What this means is to net it out: before 'sending' the personalized ecard there will be a decision screen for enrolling. First, you'll register with "Create a Hallmark eCards Account".  Then there will be "Choose Your Plan for Unlimited eCards". If you are wanting to just have it for on a Monthly basis (can cancel anytime) for $5/month. I'm including this screenshot of the "Chose your Plan for Unlimited eCards". In addition, there is a Yearly and a two Year Special pricing that comes out to $1.50 month, and $1.25 month respectively; however that appears to be billing done upfront for the duration.
I'll have more on Snoopy and Thanksgiving in my blog post on Thursday with Thanksgiving, as I do on each Thanksgiving. Enjoy!

Anchors Aweigh,  
Helen
---
Attribution & Thank you to the following who I am referencing today
Hallmark eCards image, referencing above
You might also enjoy AnchoredScraps New Peanuts Letters to Santa Kit at USPS Store 10-09-2017; Letter Writing Desk Must Have – Hallmark Peanuts Typewriter Sentiment Holder 10-08-2017