Adventure Awaits Hershey Postcard Look Wrapper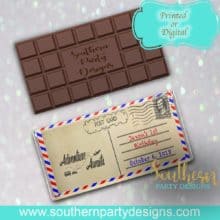 I'm seeing a very creative idea with the Adventure Awaits Hershey Postcard Look Wrapper. There are so many fun ways of using this not only for a birthday wrapper but also for any custom favor uses.
Adventure Awaits Hershey Postcard Look Wrapper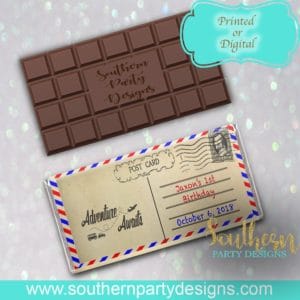 At SouthernPartyDesigns is available in a downloadable printable pdf or printed and shipped to you. We are talking about the wrapper only, it is up to us to fill with the actual chocolate bar(s)!
Note the processing time for digital orders is 1-3 business days; for printed and shipped it is 1-2 weeks.
"-Adventure Awaits chocolate candy bar labels/wrappers.

-Fits chocolate bar size: 1.55oz

-Submit name and age into the note section at the time of sale

-Once, I receive all information I will create your proof within 2-3 business days…

-No edible or tangible item will come with wrappers. NO CHOCOLATE INCLUDED You are responsible for filling purchasing the candy, and wrapping the bars."
The pricing is showing beginning at twelve dollars for the custom digital pdf. It looks like as a party favor you would want everyone to get the same message so the quantity ordering makes sense. I'm going to have to find out what to do where I want an individual different name on each one, i.e. for sending separately to PenPals scattered around and about! If going with a quantity then I'm thinking the message would probably be a generic message… stay tuned!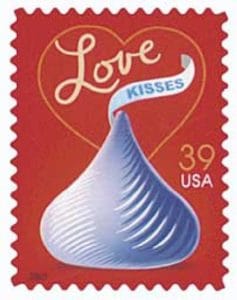 This 2007 USPS stamp With Love and Kisses Love Series I'm including with my blog post.  It was for "The centennial anniversary of the chocolate kiss is commemorated on the 2007 Love stamp."
Thank you for joining me today. Tomorrow we kick off a new week and will find ourselves at the half-way mark for January 2019. Here's to Hershey's Almond Candy Bars!

Anchors Aweigh,  
Helen
---
Attribution & Thank you to the following who I am referencing today
Adventure Awaits Hershey Postcard Look Wrapper, excerpt, image
MysticStampCo 2007 39c Love-Hershey's Kiss USPS USA-4122 Scott
You may also enjoy AnchoredScraps Candy Themed Stationery Accessories 6-09-2016