National Letter Writing Month 2019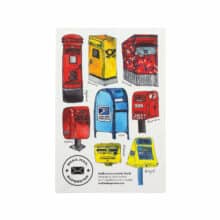 Our new week begins on this April 1st kicking off National Card & Letter Writing Month 2019. This is my fifth year to be blogging about the annual event!
We are beginning with looking at the Mailboxes Around the World Postcard at Constellation & Co., located in the "beautiful studio in the historic Seattle Fishermen's Terminal of Seattle."
Mailboxes Around the World Postcard
"This postcard features images of worldwide mailboxes that were drawn with a fountain pen and watercolor painted by Snail Mail Superstar, Sara McNally. Each postcard measures 4″ x 6″ and has been digitally printed on 130# uncoated paper."
From their Our Story page – "Constellation & Co. is a letterpress greeting card company that uses the power of words and the magic of snail mail to connect people and make us all feel less alone."
Have fun exploring her site, and I'm planning on having a future post on more of her items in the near future.  In the meantime, check out her March 21, 2019 constellationco.com blog post on the April month-long letter writing ideas.
AnchoredScraps.com National Letter Writing Month Previous Blog Posts
The second item for today is including this listing of previous posts.
Every once in a while I still come across a few of the "From Me to You" stamps from the USPS from 2015.
It is already showing evidence of it being a fast week!  Have fun exploring and see you tomorrow.

Anchors Aweigh,  
Helen
P.S. Today is blog post #1496! The countdown to AnchoredScraps #1500 daily blog posts continues!
---
National Letter Writing Month 2019 Attribution & Thank you to the following I'm referencing today
Constellation & Co. Mailboxes Around the World Postcard, image, excerpt
AnchoredScraps