We are looking at Handmade Copper Eucalyptus Self Adhesive Wax Seals while the weather channel continues in the background today.
The inspiration for today's letter writing themed blog post with wax seals color offering is because of looking for a copper tea kettle. There are numerous offerings online and I'm still searching. Finding the Copper Eucalyptus Self Adhesive Wax Seals is a great find for me. I love this kind of wax seals, especially for carrying with me for having on hand. It sure adds a little extra touch to a letter when sending.
Copper Eucalyptus Self Adhesive Wax Seals
At the SweetOpheliaDesigns Etsy Shop, it describes them as follows.
"Handmade Eucalyptus Wax Seals (Peel and Stick Self-Adhesive)
Size: 25mm Diameter

… Individually handmade with high quality wax, they are currently available to order in a variety of colours.

Each seal is finished with a self-adhesive backing, making them simple and easy to apply to your envelopes. Simply peel and stick for the perfect finishing touch to your wedding invitations! "
There are several color choices for the Eucalyptus Self Adhesive Wax Seals including the colors in this photo: antique gold, silver, rose gold, pearl, copper, burgundy, champagne, blush, and white.
Furthermore, I'm including this image of the pulldown menu showing all of the color choices for them.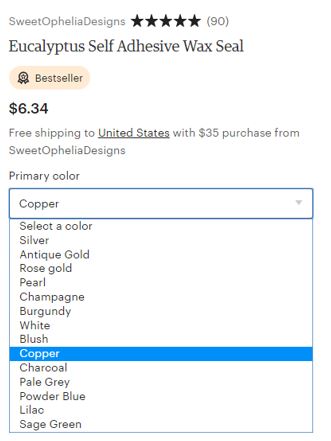 Before closing, my continued sincere thank you for the continuing emails and text messages checking on us being in the Wilmington, North Carolina area with approaching Hurricane Dorian.
See you tomorrow with my Thursday blog post. Here's to staying dry!

Anchors Aweigh,  
Helen
P.S. Today is AnchoredScraps daily blog post #1652, we continue the trek to #1700!
---
Attribution & Thank you to the following who I referenced above –
SweetOpheliaDesigns
You may also enjoy AnchoredScraps Nostalgic Impressions Christmas Wax Seals 11-25-2018