As we are counting down 10 daily blog posts away from #1700, it is serendipitous #1691 is on the 2003 Writing Letters with Pen & Ink book. Its arrival earlier this week in the mail from a local Pen Pal is a joy and treasure! On this Sunday morning, we have two things, the backstory of how I came to receive this wonderful book this week, and about the book.
First, receiving the Writing Letters with Pen & Ink book, beautifully gift wrapped is a delight! My sincere heartfelt thanks to my Pen Pal buddy for this very thoughtful gift. Next, I must share about the presentation of the book with it arriving in the mail. There is a scenic postcard from her trip where she was on vacation tucked in with the book which I'm using as the bookmark.  The postcard is an extra treat and it contains in her handwriting about discovering the book at the quaint vintage bookstore while on vacation. The book was calling my name out to her!
Furthermore, I'm cognizant of the time it takes for carrying the book home in suitcase, wrapping, and putting into the mail – wow! It not only is a gift from the heart from a pen pal (aka kindred letter writing enthusiast), but it is also a gift of her time.
For writing today's blog post topic, the timing is good as it has been a few days since sending my handwritten thank you note off to her, giving it time to arrive. After all, she is a long-time AnchoredScraps email blog subscriber and my goal (and hope) is my thank you note has already arrived. (If not, it should be arriving Tuesday, when mail resumes after Monday Columbus Day Holiday.)
Writing Letters with Pen & Ink by Edward St. Paige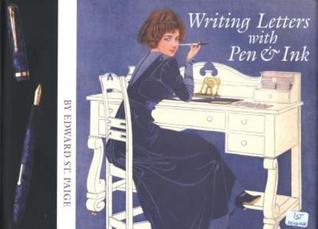 If we take a sheet of 8.5 x 11 paper and turn it sideways, that is pretty much the size of this 40-page hardcover book. The publisher is Laughing Elephant Books.
The book is a treasure trove of quotes, illustrations, art from years ago all with an old-school letter-writing correspondence theme. The recommended sources at the back of the book are fantastic and I will be doing some further exploring.
In looking around, AbeBooks.com has several copies of the book available. I'm seeing some at Goodreads listing sources including one at BetterWorldBooks, eBay, and Amazon has several. Overall shipping costs really vary, so be sure to take into consideration before clicking buy.
"This volume lovingly describes the many connected pleasures enjoyed by someone who conducts a correspondence through letters handwritten with pen and ink. The nature of different pens is discussed, and the pleasure of writing with them is chronicled. The selection of paper and ink is examined, and through the choice of envelopes and stamps further opportunities for variety and creativity are explored. This book will encourage many people to explore this profoundly satisfying way to communicate."
In conclusion, if you are looking for a well-done book on letter writing, this is a must-have! Thank you again to my Pen Pal!
Wishing you a great day ahead! See you tomorrow as we kick-off the new week!
Anchors Aweigh,  
Helen  
---
Attribution & Thank you to the following who I am referencing today
Goodreads
Amazon
AbeBooks.com
BetterWorldBooks