While it may feel weeks away, the USPS 2019 Holiday Shipping Deadlines are approaching.  Even though Cyber Monday may decrease the need for shipping a package ourselves, we still have holiday cards and these dates are helpful to keep in mind.
To net it out, the page at the USPS site is showing several tables with the deadlines for the contiguous U.S. and Alaska & Hawaii, International Mail, and Military 2019 USPS Holiday ship-by-dates.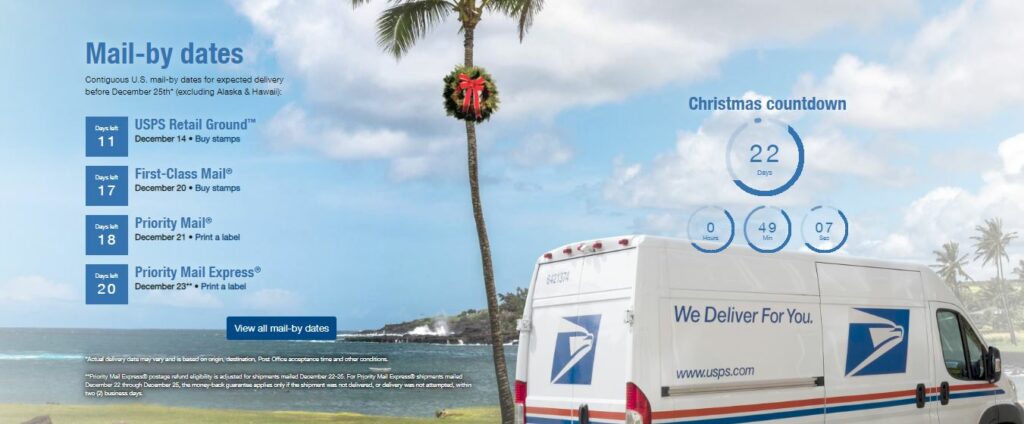 2019 Holiday Shipping Dates for the Contiguous U.S.
Here is a listing to make the Cutoff Dates for December 25, 2019 (excludes Alaska & Hawaii)
"Recommended send-by dates for expected delivery before December 251

Domestic Mail Class/Product

Date (excluding Alaska & Hawaii)

First-Class Mail® Service

Dec. 20

Priority Mail® Service

Dec. 21

Priority Mail Express® Service2

Dec. 23

USPS Retail Ground®

Dec. 14″…

Not a guarantee, unless otherwise noted. Dates are for estimated delivery before December 25. Actual delivery date may vary depending on origin, destination, Post Office acceptance date and time and other conditions, including customs delays. Some restrictions apply."
While wrapping up, I'm reminded of a phrase the builder would use with taking action at each phase when we built our first home. The expression of "now is the time" became a recurring theme and it applies here. Now is the time to list, round up, and make haste within the next two weeks to ideally get our items into the mail. Like I said, ideally.  And then there is IRL (in real life).   Here's to a great week ahead and see you tomorrow for Giving Tuesday.
Anchors Aweigh, 
Helen
---
Attribution & Thank you to the following I'm referencing today
USPS 2019 Holiday Shipping Deadlines
You may also enjoy AnchoredScraps USPS Holiday Wreaths 2019 Forever Stamp 10-27-2019