The Love Stamps Puzzle over at the USPS Postal Store is one of several puzzles on sale until February 21st.  Seeing it just came out back in November 2019, the timing is great with Valentines coming up in less than three weeks.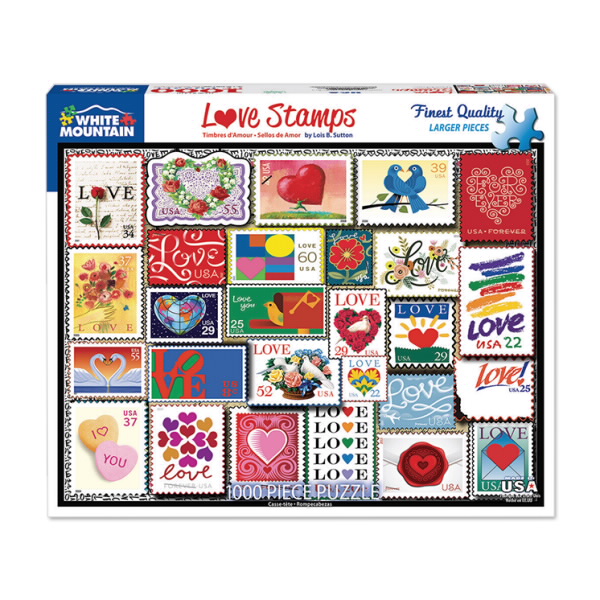 "Love is in the U.S. Mail with this Love Stamps Puzzle."
The 1000 piece puzzle normally sells for $13.99 and is on sale with 20% off.
"Designer Lois Sutton has arranged this collection of stamps going back to Robert Montana's iconic Love graphic – issued in 1973 at only 8 cents! With a finished size of 24 x 30 in, this puzzle has 1000 pieces and 27 unique stamps."
In addition, the puzzle sets issued on 5/30/2019 are also on sale for 20% off each: Presidential Stamps Puzzle, Classic Stamps Puzzle, and America Smiles Stamps Puzzle. If there is a family member who loves puzzles this is a great time to go ahead and take advantage of the sale for a future birthday, and/or Christmas presents.  However, the Christmas Stamps Puzzle (also issued on 5/30/2019) is not on sale.
Enjoy! Until tomorrow!
Anchors Aweigh,  
Helen
P.S. The countdown continues today with daily blog post #1798, en route to #1800!
---
Attribution & Thank you to the following who I am referencing today
USPS Postal Store Puzzles on Sale
You may also enjoy AnchoredScraps Christmas Stamps Puzzle 2019 USPS 10-10-2019