We are remembering the 75th Anniversary Iwo Jima Ending. It was 75 years ago, marking the end of the five-week WWII battle on March 26, 1945. In addition, we are also looking at the Brazos Valley WAA Special Challenge Coin for 2020 and their Letters From Home Campaign Thank You Veterans.
First, I'm including this from Wikipedia:
"The Battle of Iwo Jima (19 February – 26 March 1945) was a major battle in which the United States Marine Corps and Navy landed on and eventually captured the island of Iwo Jima from the Imperial Japanese Army (IJA) during World War II… This five-week battle comprised some of the fiercest and bloodiest fighting of the Pacific War of World War II."
Brazos Valley WAA Special Challenge Coin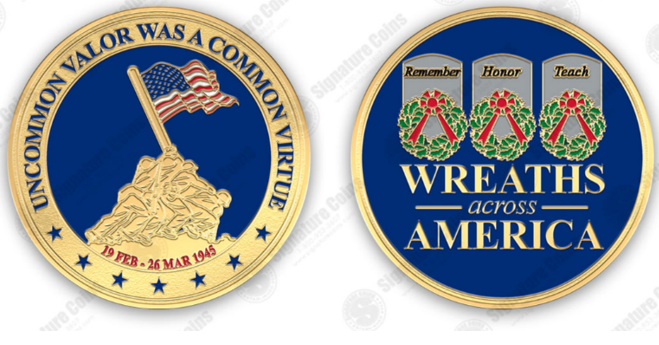 The photo we are seeing is of the Brazos Valley Wreaths Across America (WAA) special challenge coin designed for 2020 "to recognize and thank our service members and supporters." 
The group was planning a ceremonial wreath presentation, prior to the Coronavirus pandemic; however, they are now having a "Letters from Home" campaign. 
Letters From Home Campaign Thank You Veteran
Over the course of the five-plus years, posts here have included different ones with Wreaths Across America.  My thanks to Ellen Fuller, a volunteer with the Brazos Valley Wreaths Across America location for sharing the following.
"… We selected to "Letter from Home" to emphasize the importance of keeping in contact during tough times. Writing letters is a wonderful way to let our veterans know that their service and sacrifices are still appreciated.  So, if you'd like to join us with a meaningful activity, please address all letters and cards to "THANK YOU VETERAN" and other local veteran service organizations, at:  WAA – attn:  THANK YOU VETERAN – PO Box 1000 – College Station, TX  77841"
In closing, remembering sacrifices from this day of the 75th Anniversary of Iwo Jima Ending is important. I'm hoping you'll consider writing a Thank You to a Veteran. Whether writing to the above group and/or through another group or direct the timing is all the more special given so many are at home currently. 
Anchors Aweigh,  
Helen
---
75th Anniversary of Iwo Jima Ending Attribution & Thank you to the following who are referenced today
Brazos Valley Wreaths Across America
You may also enjoy AnchoredScraps Remembering Iwo Jima Stamp, February 23, 2016; USPS 1945 Victory at Last WWII Sheet of stamps, May 9, 2019