Today is St Patricks Day 2020. First we are looking at the 2020 March 17 Shamrock Station Pictorial Postmark available by request.
The day had lots of cancelled events due to the Coronavirus crisis. This included no local stamp club meeting, nor Lenten Lunch. I did get to wear my kelly green sweater and enjoyed corned beef dinner at home.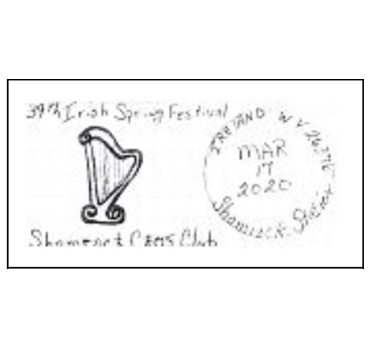 Looking at "A letter to Saint Patrick" by Joseph McAuley
Next, I'm including this article (and link) "A letter to Saint Patrick"; it was written on this day in 2015 by Joseph McAuley at americamagzine.org. 
Here is the beginning excerpt.
"Dear Saint Patrick,


Usually at this time of year, people who are Irish or are of Irish descent send greetings to one another by way of cards, postcards, phone calls and letters—or even little plastic encased packages of shamrock—to celebrate your Feast Day. It was a red-letter day (or perhaps it should be more appropriate to say "green-letter day"?) in our household when the mailbox revealed greetings mailed from relatives in Ireland, not to mention the odd greeting card from the neighbor up the block…"
St Patricks Day 2020 Shamrock CEOs Club Pictorial Postmark
Here is the address for requesting the pictorial postmark, good for 30 days.
March 17, 2020
Shamrock CEOs Club
Shamrock Station Postmaster
234 Wildcat Road
Ireland, WV 26376-9998
If you are not familiar with the requesting process, the USPS Postal Bulletin has them here.
We are in the midst of a lot of unknowns and getting settled into our homes for a 'new normal routine' for the next few weeks. 
My plans are to get the blog out earlier in the day with this new routine moving forward. 
Hang in there!  See you tomorrow for my Wednesday blog post.
Anchors Aweigh,  
Attribution & Thank you to the following who I am referencing today