We are kicking off the new month with the CottageRoseGraphics May Roses Bloom Vintage Postcard. This year for May 1, I'm enjoying finding the CottageRoseGraphics May Roses Bloom Vintage Postcard; and with it reading their tagline, "Graphic design for those who love roses…..".
In previous years on this day, it has included reminiscing about Julie Andrews singing "Tra la! It's May! … from Camelot, (May 01, 2015).
CottageRoseGraphics May Roses Bloom Vintage Postcard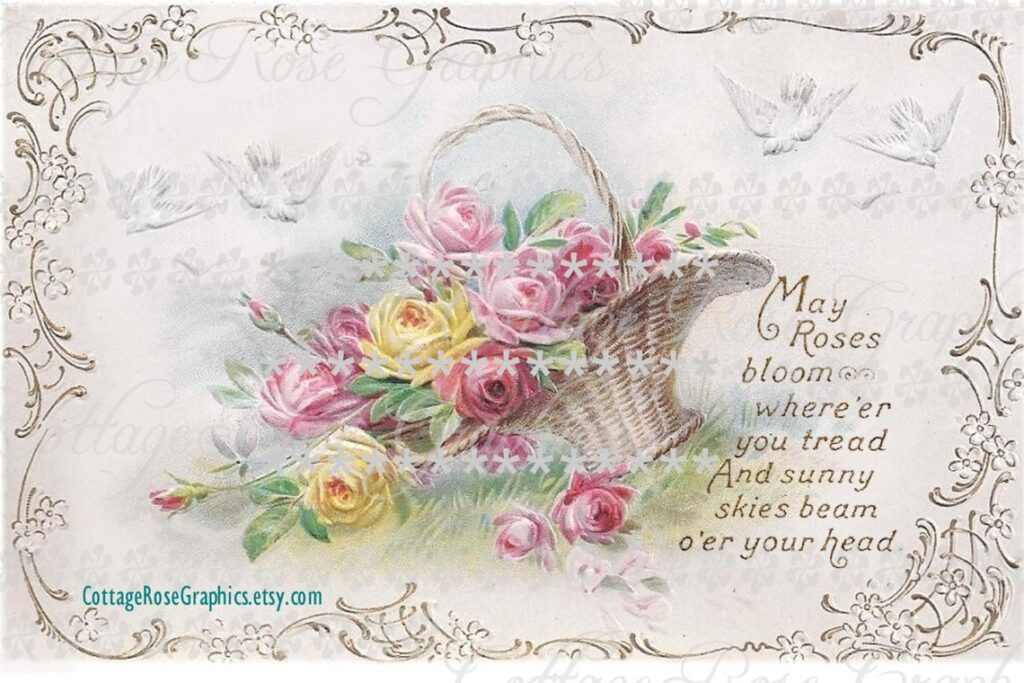 The instant downloadable printable postcard is one of many available at her Etsy shop.  You'll want to see the other ones too, given the promotion underway to buy three images and get one free. The details for the promotion are on the page. This means with the pricing at $3.95, ordering another three, will bring the price down to an average of one dollar each.
"This will print out to 4″x6′ postcard size or smaller, this one is great for gift tags too

Many of my graphic designs come from vintage greeting cards, postcards, old sheet music and other ephemera. Many of my designs I have used in my own mixed media and textile creations.
Your imagination is your only limit with these wonderful reflections of the past.

Great to print on Fabric
Mixed media art
Christmas ornaments
Collage
Quilts
greeting cards
invitations"
This weekend, and the first part of next week, is great time to get Mother's Day cards off into the snail mail. Join me tomorrow for my Saturday blog post.
Anchors Aweigh,  
Helen
---
Attribution & Thank you to the following who I am referencing today
CottageRoseGraphics Etsy

; since 2008, Sublimity, Oregon
AnchoredScraps Letter Writing Among May Flowers Stationery Inspiration (May 1, 2019).