The Thoughtful Plantable Seed Card Set is by Botanical Paperworks. This week they are featuring it as their Social Distancing Encouragement Card of the Week. Botanical Paperworks tagline is "Seed Paper That Grows".  

There is currently a promotion to save on shipping, taking $10 off to use towards the shipping from their  Winnipeg location. For this week, it is showing available through May 3rd.  
Botanical Paperworks Thoughtful Plantable Seed Card Set
I'm loving the envelopes are bright yellow with this set. The fold-over size is 4 x 5.25 inches. There are three in each pack.
"The Wildflower Seed Mix: Grows a blend of colorful wildflowers including Bird's Eye, Clarkia, Black Eyed Susan, Sweet Alyssum, Catchfly and Snapdragon."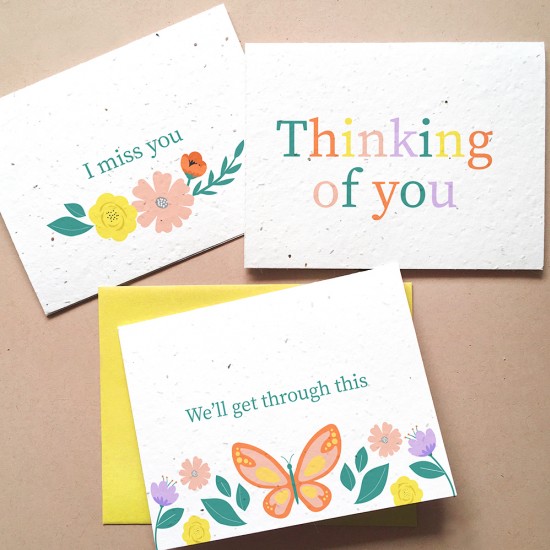 Botanical Paperworks Social Distancing Encouragement Cards of the Week
"… Each piece is made with eco-friendly seed paper so that recipients can plant the paper and watch it grow throughout the coming weeks and months. It's a small, but meaningful way to show the important people in your life how much you care.

We hope you love the idea and enjoy spreading your words of encouragement and wildflowers!"
Heart Shaped Plantable Confetti
In addition, I'm loving the idea of being able to have a little something to tuck into a letter such as their Heart Shaped Plantable Confetti in Teal. It sells for $9.99 comes with approximately 350 seed confetti hearts per bag, 7/8″ in diameter.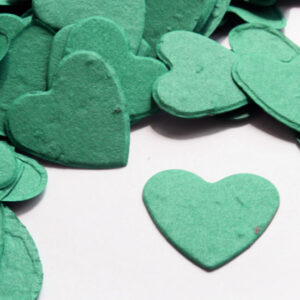 "… Seed confetti also makes a great addition to any table decoration. …What would usually go in the trash will be taken home with guests to plant at home instead!"
Previous AnchoredScraps Blog Posts on seeded stationery include
From looking at their site, I'm already seeing so many great items of interest! Also, the Botanical Paperworks website is really nicely done!! Today's blog post is an introduction to Botanical Paperworks, especially their timely Social Distancing Encouraging Seeded Cards AND adorable Heart Shaped Plantable Confetti. 
Have fun exploring – the categories I'm seeing are by seed paper & confetti, wedding collection, baby, parties & events, memorial products, sustainable eco packaging, and business & promo. 
See you tomorrow for my Sunday blog post. Until then…
Anchors Aweigh,  
Helen
P.S. Today is AnchoredScraps daily blog post #1893, one week from today is Milestone #1900!
---
Attribution & Thank you to the following who I am referencing today
Botanical Paperworks Thoughtful Plantable Seed Card Set
AnchoredScraps.com encourages old-style correspondence by putting pen to paper in letter writing!