This page under construction.
---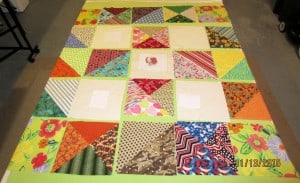 Cuddy's Quilt is currently with the embroiderer for the five square blocks.
– As of November 20, 2015 – Helen
To see the progress here are the links to blog posts about it so far:
Cuddy's Quilt November 08, 2015
Autumn Potpourri  November 12, 2015
Cuddy was our Brittany Spaniel who was a guest blogger each month here at AnchoredScraps.com – he would blog each month since launching on February 26, 2015.
These are links to all of his blog posts that include photos of him each time:
AnchoredScraps.com Cuddy Guest Blog Post Recap

#
Date
Title
              
 March 17, 2015
 His first blog post from March 17 Paws-ing for St. Patrick's and included sharing my story of being matched with my forever family in July 2008 through the American Brittany Rescue
 
 
 April 12, 2015
 April 12 Paws-ing to Type;
 
 
 May 21, 2015
 May 21 Paws-ing for May flowers;
 
 
 June 11, 2015
 June 11 Pool Season (has arrived),
 
 
 July 31, 2015
 July 31 Christmas in July (Santa Paws), and
 
 
 August 16, 2015
 August 16 Dog days of summer.  
 
 
 September 12, 2015
 September 12 Lucky Dog  
 
 
 October 31, 2015
 October 31 Paws-ing for Curtain Call
 

November 3, 2015
 "Day by Day"  Written the day after losing him
 
 
Additional: