Welcome to the new week with today's post on the JetPens Ohto Coro Ceramic Letter Opener. As a reminder, tomorrow wraps up the #InCoWriMo (International Correspondence Writing Month) event.
Ohto Coro Ceramic Letter Opener
I've ordered items from JetPens before and have been very happy with their excellent customer service. My first @JetPens order was placed back in August 2015.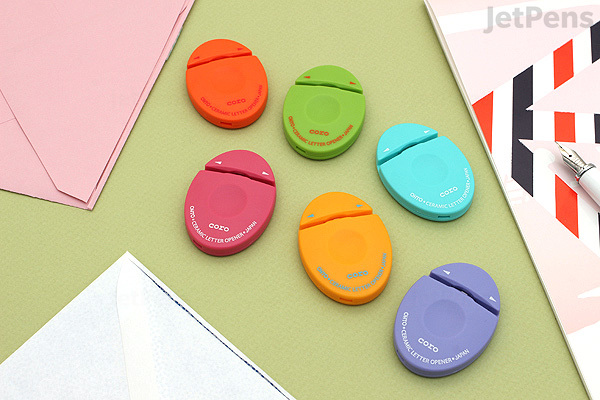 Available in these colors – Purple, Blue, Orange, Pink, Yellow, and Green.

 
These letter openers are listed for less than $11 each at JetPens.
"Opening envelopes safely and cleanly is a breeze with this innovative letter opener! Simply insert a corner of the envelope into the groove and slide the opener along its edge. The ceramic blade will create a clean cut with little or no paper debris. The ceramic blade—which is 5 times more durable than steel—can cut in either direction and is safely nestled inside the groove of the opener where it cannot accidentally cut your fingers. The opener features an indent for gripping comfortably with the thumb of either hand, as well as a loop for attaching it to a lanyard or keychain. Its thin, lightweight design makes it easy to store or carry with you anywhere."
#InCoWriMo & @JetPens
The idea of participating in the event "was suggested to me by @JetPens .. in reply to my sharing I had ordered more #Waterman Long Ink Cartridges in several colors…"  The month-long event last day is tomorrow, February 28th.
Join me tomorrow as we say goodbye to the month with my February 2017 AnchoredScraps Daily Blog Recap.  Now I've got to figure out which color to order for my letter opener!
Anchors Aweigh,