One Thousand and One & California Typewriter Movie Available Options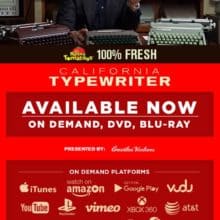 To begin with, it is wonderful reading at The Typosphere that the California Typewriter Movie is now available OnDemand, DVD, and BluRay!
As far as the first part of the today's blog post title, "One Thousand and One", I'll get back to that at the conclusion of this post!
California Typewriter Movie Available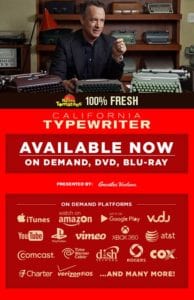 The typewriter is a recurring letter writing topic here at AnchoredScraps. In my blog post back in September on movie opening weekend – it has found me since then waiting to see this movie. Fast forward to now, and we see the movie listing as available On Demand, DVD, and Blu-Ray as viewing options.
In addition, the streaming for this at Amazon works smoothly. In surfing ahead in the movie for writing today's post, I was able to see glimpses of scenes in the movie.
Most noteworthy is seeing Richard Polt, Author of "The Typewriter Revolution", being interviewed.  Seeing someone tracking down the historical sign showing where the Typewriter was invented was fun too!
Furthermore, getting to see different scales of home "libraries" with a typewriter to several rows of them, clacking away has my collection of six typewriters looking very small in size! On this long weekend with Thanksgiving approaching, I'll be watching it uninterrupted! I'm already seeing I will have to purchase this movie for repeated viewings!
One Thousand and One
As we wrap up today's blog post, the following is whimsical playing with a blog title. Today is daily blog post #1001.  Here goes – in an ideal world, I would have One Thousand and One Typewriters!
When I began this blog I had one typewriter, and now find myself with six typewriters. In conclusion, seeing the same typewriter model as my Dad's typewriter in the movie was a lot of fun! His typewriter is still getting best placement for showcasing when displaying in my study!
In conclusion, thank you for joining me today for One Thousand and One & California Typewriter Movie Available Options.  With the Thanksgiving weekend fast approaching, I'm hoping you will get to watch this movie too! Join me tomorrow for my annual Thanksgiving blog post!

Anchors Aweigh,  
Helen
---
California Typewriter Movie Available Options Attribution & Thank you to the following I'm referencing today for my daily blog post encouraging letter writing –
TheTyposphere "California Typewriter" now available on disc & streaming, Image, November 21, 2017.
AnchoredScraps posts: California Typewriter movie with Tom Hanks & The Typosphere 9-08-2017;  Dad's typewriter  5-30-2015; https://anchoredscraps.com/2015/09/just-my-type-in-celebration-of-new-books-on-typewriters/Just my type ! on 9-29-2015; by Helen Rittersporn.