Crane Stationery Online Sale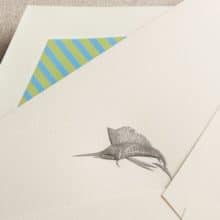 There is a Crane Stationery Online Sale underway including Crane & Co. Engraved Marlin Note cards!  I'm seeing sale prices of 50% which has me looking with interest.
Also, speaking of Crane, given previous posts here on Crane, here's a shout out on this Sunday morning to Suzanne, and to Bruce.
Before we get started, yesterday the new Peace Rose stamp was issued! In case you missed the details, I'm including below the link to my blog post about it.
Crane Stationery Online Sale
Whether it is the handsome Engraved Marlin Note perfect for upcoming Father's Day or the Shoe Soiree Thank You Note for Mother's Day they are currently on sale! 
In addition, the other three sale stationery items are the Scallop Thank You Notes; Vera Wang Engraved Smoke Thank You Note; and Chevron Thank You Notes.
Engraved Marlin Note

First of all, instead of $29 for the box it is on sale for $14.50. Secondly, here is a product description of the folded note.
"Let friends and family alike know things are going swimmingly with our note featuring the majestic marlin, engraved in platinum for added elegance and paired with our beach umbrella stripe envelope lining for the perfect pop of color."

Furthermore, it goes on with these details. "Crane & Co. Folded Note; 3 13/16 x 5 3/16; Printing process: Engraved; Ecru Paper; … Kid Finish®; Beach Umbrella Stripe lining in envelope"
Lastly, my advise is order now as I do not know how long the sale is in running. 
In conclusion, the Crane Stationery Online Sale items are a splurge on the luxury for our letter writing and gift giving options worth considering and at the same time being smart with our wallet.  Happy Sunday!

Anchors Aweigh,
Helen
---
Crane Stationery Online Sale Attribution & Thank you to the following who are referenced today
crane.com/sale, images, excerpt
AnchoredScraps daily blog post: First Day of Spring 2018 & Upcoming Peace Rose Forever Stamp 3-20-2018; Blue Book of Stationery by Crane & Co 10-25-2017; Sharing CraneandCo Vintage Letter Writing Advertisement 3-29-2017.