Assorted Mailboxes Thank You Notecard Set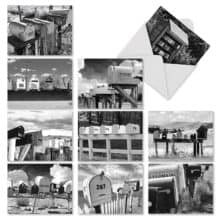 As we head into the weekend we are looking at the Assorted Mailboxes Thank You Notecard Set offering from The Best Card Company.
Let's face it – I love having among my stationery stash images of mailboxes.
Today's post gives us an opportunity to add the Assorted Mailboxes Thank You Notecard Set to our stationery collection. In addition, I'm calling our attention to the Postcard Fair Mailbox Postal Postcard Set (1-21-2017).  
In The Mail: Assorted Mailboxes Thank You Notecard Set
Firstly, if the company sounds familiar, it was just last October we looked at the Typewriter Key Hello Blank Note Cards (10-12-2017) which included a mention of them. In that post I reference a variety of different offerings of the Best Card Company Thank You Notes.
There was a mention of today's set within that post; however they were having All Occasion, or as blank as available options too. I'm no longer finding the "All Occasion". Think of Today's post as a refresh as we are focusing on the Thank You Notecard Set.  To get either the Thank You or a blank version click here.
Secondly, I'm including this excerpt from the product description.
"10 beautiful assorted (4" x 5 ¼") Thank You note cards & envelopes.

Cards' inside greetings read: Thank You. 10 Perfect stationery for writing Thank You wishes and ships with envelopes in a reusable box for your convenience.

North American based, our proprietary, eco-friendly, print-on-demand technology and premium, recycled, renewable cardstock drastically reduce waste and minimize environmental impact…

Founded in 1980, NobleWorks – and The Best Card Company, its non-humor division Wishing you a great weekend ahead. – is an award-winning brand and a New Jersey based, family-owned publisher…"
Furthermore, the pricing is right at under $10 for the set of 10 note cards with envelopes. The pricing is okay; however, it IS of mailboxes.
Combining the subject matter of mailboxes with stationery is a bit of Achilles heel for me! Perhaps with you if the stationery note cards were of butterflies, or horses, or model airplanes……
Wishing you a great weekend ahead.  It is WordCamp Raleigh weekend and I'm attending the event. Join me tomorrow for my Saturday blog post!

 Anchors Aweigh,
Helen
---
Attribution & Thank you to the following who are referenced today
M9681TYG In The Mail:
10 Assorted Thank You Folded Note Cards Feature Photographs of Mailboxes, w/White Envelopes.
Color:M9681TYG In The Mail Thank You Notecard Set by The Best Card Company
AnchoredScraps.com daily blog posts as listing above