Waffle House Index & Postcards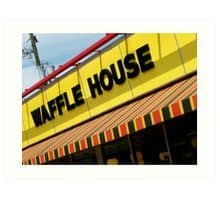 Today's post is about the Waffle House Index & Postcards.   With watching the weather channel predictions of Hurricane Florence being a Category 4, even possibly a Category 5 approaching Wilmington, it is worth noting about the Waffle House Index.
First, we have from this 2016 article,  How bad is it after the storm? Check the Waffle House Index! Author: WXIA Staff;
"After the devastating 2011 Joplin, Missouri tornado, Fugate came up with what is termed the "Waffle House Index," which has three color-coded levels tied to the extent of operations and service at the local Waffle House location after a storm.

"Green" is based on the location serving its full menu, indicating the location has full power and limited damage.
"Yellow" is based on the location serving a limited menu, which means there may be limited power from a generator,  or no power; or there may be low supplies of food.
"Red" means the restaurant is closed, indicating severe damage."
"The Federal Emergency Management Agency even measures the severity of a storm's damage by something called the Waffle House Index."
Next, from the article last year at Quartz:  "It's for this reason that the Federal Emergency Management Agency (FEMA) considers these diners an unofficial index by which it can measure how catastrophic a storm is to a region, according to Yahoo Finance… "If Waffle House is closed, it's time to panic."
Within that last link, it includes the following which I'm including here.
"But the so-called index isn't actually an official metric. FEMA doesn't publish it anywhere; no one, except for Waffle House itself, counts how many restaurants are running lean or forced to close. But the company does give that count to the agency, and FEMA uses it — along with wind speeds and power outages and other objective measures — to judge a storm's impact, and to figure out where its own crews and other emergency responders can get fed."
Waffle House Postcards
The Waffle House Postcard showing is for $2.29 at Redbubble; it is of a Waffle House in Atlanta, Georgia.   There are several options showing available at Redbubble; have fun exploring.
Here's to being careful and continuing to do storm preparations!

 Anchors Aweigh,
Helen 
P.S. Our countdown to #1,300 continues; today is daily blog post #1,293 celebrating letter writing!
---
Attribution & Thank you to the following who are referenced today
Redbubble Waffle House, Atlanta, Georgia Postcards, image
Excerpt, How bad is it after the storm? Check the Waffle House Index! Author: WXIA Staff; Published: 7:05 PM EDT October 6, 2016; Updated: 8:01 PM EDT October 6, 2016
Wikipedia Waffle House Index