The Crane Engraved Hummingbird Boxed Note Cards are beautiful.
I'm considering adding them to my stationery collection for my letter writing.  With Easter approaching this Sunday, I'm finding its design to be full of the promise of Spring.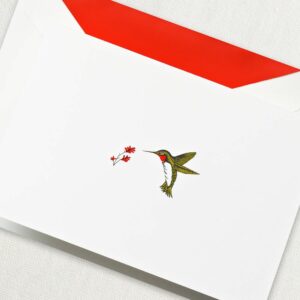 The boxed set has 10 notes and 10 lined envelopes.
Crane Engraved Hummingbird Boxed Note Cards
"Sometimes it's the little things that possess the most beauty. Hummingbirds and handwritten correspondence, for example. The two come together on this engraved note, a perfect balance of color and composure.

Crane & Co.
Folded Note
3 13/16 x 5 3/16
Printing process: Engraved
Pearl White Paper
100% Cotton Paper
Made in U.S.A.
Medium weight paper
Red Lining…"
With the pricing for it at $29, it is a splurge; however, I'm thinking for those extra special notes sharing it via writing a letter on it and mailing to a pen pal buddy to be a real treat!

Anchors Aweigh,
Helen
---
Attribution & Thank you to the following I'm referencing today
Crane Stationery, image, excerpt
You may also enjoy AnchoredScraps Blue Book of Stationery by Crane & Co 10-25-2017; In time for Thanksgiving Hummingbird Joy ebook 11-22-2016