We are welcoming November with Fountain Pen Day 2019, #FountainPenDay2019, which takes place the first Friday in November. In addition, The Ohio Pen Show is this weekend celebrating their 25th Anniversary!
#FountainPenDay2019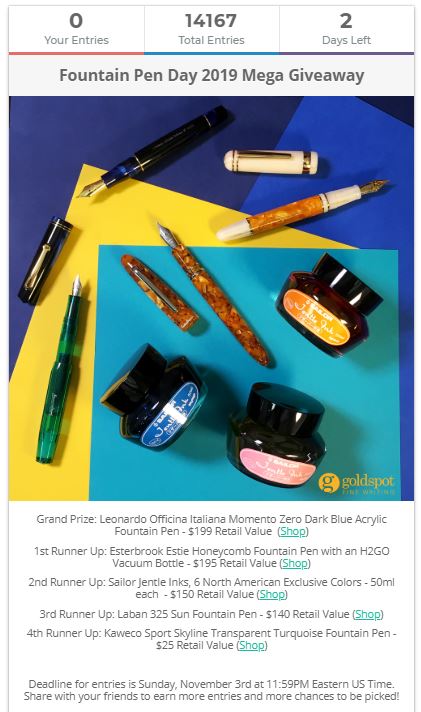 There are several fountain pen places we have covered in previous AnchoredScraps blog posts here participating including Goldspot Pens, Pen Chalet, Pen Boutique, and Fountain Pen Hospital.
Goldspot Pens is having a fountain pen giveaway with two days left for entering.
#FountainPenDay takes place on the first Friday in November each year. By my count, it is the 8th Annual.
This is my fifth year here at AnchoredScraps blogging about the event. In case you missed my previous posts on it, here is a listing by each year: Fountain Pen Day 2018 11-02-2018; Wonderful Fountain Pen Day 2017! 11-03-2017;  Fountain Pen Day 2016 11-04-2016;  Fountain Pen Day 2015 11-06-2015.
This is a screenshot of the Fountain Pen Day 2019 offers & events at the #FountainPenDay2019 Sponsors page, scrolling to the bottom below the Vendors listing. I'm including for reference as year-long when looking at fountain pens.  Included in the listing is the OHIO Pen Show this weekend!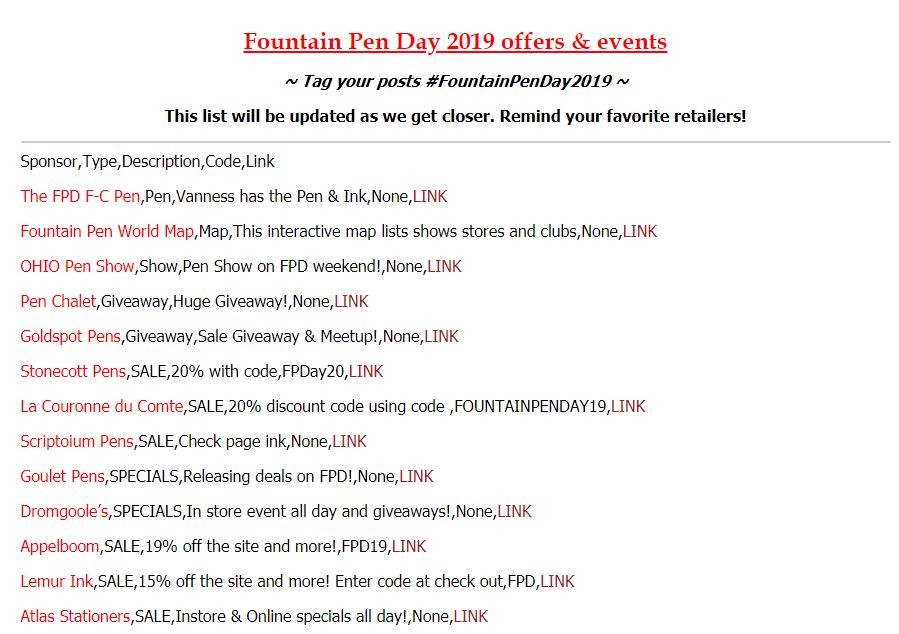 See you tomorrow for my Saturday blog post, until then!
Anchors Aweigh,
Helen
---
Attribution & Thank you to the following who I am referencing today –
#FountainPenDay2019
AnchoredScraps Enjoying Browsing the Goldspot Pens Accessories Offerings 8-27-2019; Pen Chalet Fountain Pen Quiz 12-19-2018; Sheaffer Pen Pouch on sale at Penboutique 9-26-2019; Return of Fountain Pen Hospital Pen Frenzy 10-16-2019