The Henderson Veterans Memorial Pictorial Postmark 2019 is appearing in the current US Postal Service Pictorial Postmarks Announcement. One of the reasons I like the idea of requesting pictorial postmarks is if our good intentions of sending out a letter for a special date, such as today came and went, here is an opportunity to still get to send and have the date with it. So if you meant to put pen to paper and send it, it is still possible for the next 30 days.
Before beginning, I'm pausing to note here we are a year later from November 11th, 2018 Veterans Day marking the solemn occasion of the Armistice Day Centennial. At the bottom of my post is the link to last year's blog I wrote on Veteran's Day.
Henderson Veterans Memorial Pictorial Postmark 2019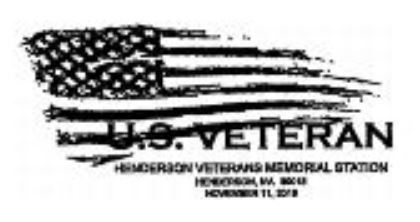 This is the address for requesting.
November 11, 2019
United States Postal Service
Henderson Veterans Memorial Station
Postmaster
404 South Boulder Highway
Henderson, NV 89015-9998
Also, over at Linn's Stamp News last week, it is one of several they are featuring 2019 pictorial postmarks honoring U.S. veterans. "Several organizations have sponsored pictorial postmarks to honor the brave men and women who have served in the United States Armed Forces…"
Furthermore, the process for requesting a Pictorial Postmark is straightforward.
"All requests must include a stamped envelope or postcard bearing at least the minimum First-Class Mail® postage. Items submitted for postmark may not include postage issued after the date of the requested postmark. Such items will be returned unserviced.

Customers wishing to obtain a postmark must affix stamps to any envelope or postcard of their choice, address the envelope or postcard to themselves or others, insert a card of postcard thickness in envelopes for sturdiness, and tuck in the flap. Place the envelope or postcard in a larger envelope and address it to: Pictorial Postmarks, followed by the Name of the Station, Address, City, State, ZIP+4® Code, as listed next to the postmark.

Customers can also send stamped envelopes and postcards without addresses for postmark, as long as they supply a larger envelope with adequate postage and their return address. After applying the pictorial postmark, the Postal Service returns the items (with or without addresses) under addressed protective cover."
In conclusion, my sincere continuing Thanks to veterans and their families!
Anchors Aweigh,  
Helen
---
Attribution & Thank you to the following who I referenced above –
Linn's Stamp News, November 8, 2019, by Molly Goad, "New postmarks honor and commend U.S. veterans".
USPS Postal Bulletin 22532, 11-7-2019
AnchoredScraps Veterans Day 2018 Pictorial Postmark & "Wreaths Across America Advances its Mission To Normandy" 11-11-2018