We are whimsically looking at the Cyclepedia 100 Postcards of Iconic Bicycles from 2016. Back in July, we were looking at a series of bicycles themed posts with our letter writing and today are continuing it.
Cyclepedia 100 Postcards of Iconic Bicycles by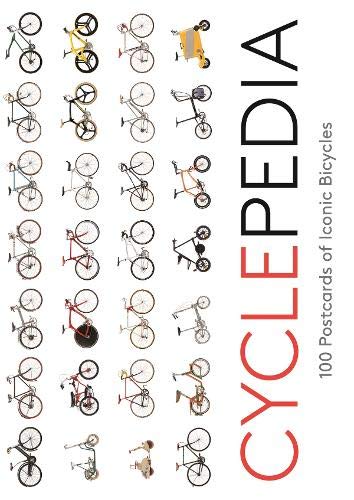 To begin with, I'm seeing the collection over at the ThanesandHudsonUSA website.  
One of the things catching my eye is reading the brief bio for the Editor, Michael Embacher.  He "… is a designer and architect who has assembled one of the world's greatest collections of bicycles. He lives in Vienna, Austria." It has been over 20 years since I was in Vienna and loved the sightseeing I was able to do seeing the beautiful city.
Next, here's the description regarding the postcard set.
"Cycling's popularity grows and grows, and bicycles have become statements of individuality the world over. This special-edition postcard box presents 100 of the most significant, exciting, and curious examples from the history of cycling, as illustrated in the popular book Cyclepedia. On each postcard, specially commissioned photography of each bicycle is complemented by essential information about the model, with key facts and technical specifications.

With specimens ranging from those for use in the mountains, for racing, and for in the city to tandems, kids', folding, touring, cargo, and curiosity bicycles, there is a bike in the box to suit every taste."
The list pricing at the $22.95. I'm finding it for less at other sites, especially in used condition. Furthermore, I'm thinking these could be really fun bookmarks for enclosing in a letter when mailing.
Here are some previous AnchoredScraps Bicycle Themed Letter Writing blog posts
Before closing, I'm including this listing you may enjoy with bicycles and letter writing. Also, I'm remembering writing these blog posts and it seems like they were just yesterday – not months, and last year!
Thank you for joining me today, until tomorrow! In the meantime, here's to exploring creative uses with postcards with our letter writing.
Anchors Aweigh,  
Helen
---
Attribution & Thank you to the following who I referenced above –
AnchoredScraps