Seeing "Photography Video Studio Continuous Softbox Lighting Light Kit" really is the title for today's blog post. My AnchoredScraps 2020 plans include having short videos on occasion to share here.
After doing a tremendous amount of research and getting professional photography advice, I'm so happy to finally have my work area have proper lighting. This is especially for using the camera on my computer for video conference calls.  If you are finding yourself looking for something similar, perhaps this is an option for you too.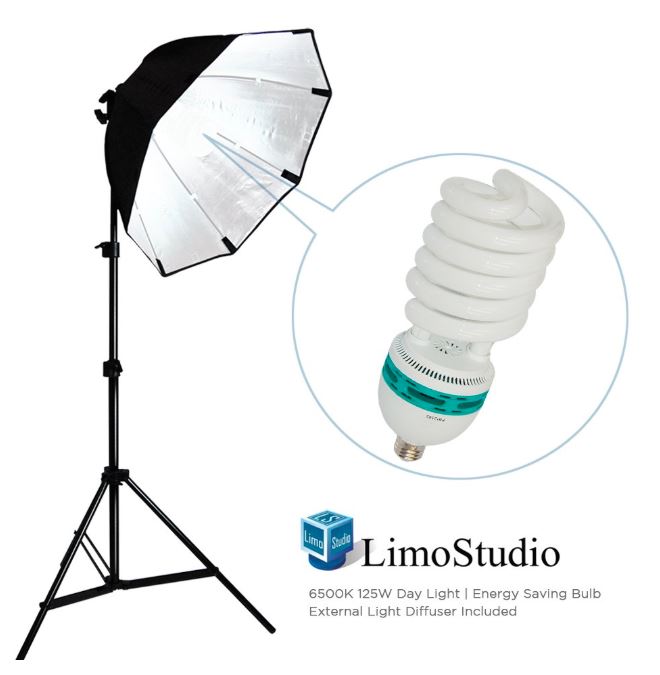 In addition, the pricing for it is wonderful, at less than $40 at Amazon. It is important to note the size of the bulb is not obvious in the stock photo I'm showing; however, it really is nicely done.
The item is the LimoStudio Photography Video Studio Continuous Softbox Lighting Light Kit with Photo CFL 105W Bulb and Octagonal Soft Box, AGG702.
"Contents: [1 pc] 86-inch Tall Light Stand Tripod / [1 pc] 105W Full Spectrum CFL Bulb / [1 pc] 26-inch Diameter Octagon Shape Softbox

Softbox Creates Soft, Evenly Spread Light Stream with External White Cover Diffuser

CFL Bulb Saves up to 80% Energy / E26, E27 Standard Base Screw Size / 105 Wattage / 6500 Kelvin

Tripod Light Stand is Height Adjustable with Maximum 86-inch / 1/4″ Standard Screw Thread Tip…"
For now, having the text about the new lighting in my studio will have to do.
In the near future, I'm planning to have an accompanying video SHOWING the set up of my desk area. It will include showing the placement of the lighting I'm describing above.
It is part of the upcoming celebrating 5 year anniversary of blogging daily – along with the debut of my new Home Page Layout for the website. THANK YOU for continuing to be on this daily journey with me!
See you tomorrow for my Sunday blog post.
Anchors Aweigh,  
Helen
---
Attribution & Thank you to the following who I am referencing today
You may also enjoy AnchoredScraps Dominoes & Desks (Awaiting my new desk) 7-08-2015