In my inbox yesterday afternoon the Goldspot Valentines Day Pen Gifts special promotion is underway. It ends next Wednesday, February 12 at 2 PM Eastern (US Time). One of the wonderful things about the sale is up to 64% off the retail price range of "$16.00 to $195.00."
What a wonderful idea for using with letter writing our pen-pals during this month of February Letter writing!
We were last looking at Goldspot Pens in December.
Goldspot Valentines Day Pen Gifts
In the below excerpt, I've added the link.
"… We invite our pen pals to share the love of writing this Valentine's Day with a handpicked selection of gift-worthy fine writing instruments. 

Choose from a bouquet assortment of ballpoints, rollerballs and fountain pens from the best pen manufacturers in the world. Unlike a box of chocolates, you can indulge on as many pens and inks as you like without jeopardizing your New Years' diet resolution.

Since this is the Weekly Dip, our selection of Valentine's Day writing instruments are all on sale, saving you up to 64% off retail prices…"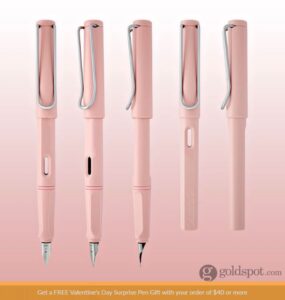 Among their Top Picks, I'm seeing, it includes Lamy Safari Pastel Fountain Pen in Powder Rose Special Edition – Fine Point for $19.95 instead of $37.00. Furthermore, when on that page, at the bottom it is showing "Get a FREE Valentine's Day Surprise Pen Gift with your order of $40 or more".
In conclusion, with all of the letter-writing I'm doing this month, it is reminding me I really need to settle on an everyday go-to fountain pen. Enjoy browsing and see if a fountain pen begins calling your name!  I'm thinking of placing a print out of today's blog and circling the pastel Lamy; leaving in an obvious spot for Cooper to spread the word! 
Join me tomorrow for my Friday blog post.
Anchors Aweigh,  
Helen
P.S. You may want to add the Lamy Cartridge Converter for Fountain Pens for $6.00!
---
Attribution & Thank you to the following I'm referencing today
Goldspot Pens
AnchoredScraps February 2020 Letter Writing Project Snail Mail Options: #InCoWriMo #LetterMo & February Letters 2-01-2020;  Goldspot Pens 12 Days Underway 12-07-2019