In seeing there are three Memorial Day Pictorial Postmarks this year, they are worth noting and considering sending off for them.  Furthermore, with this being my fourth year to write a blog post on Memorial Day, it was very special this morning to be able to unwrap the VHS I had ordered and watching the entire episode of "What Have We Learned Charlie Brown? A Tribute".  This was the video I was referencing in my Saturday blog post – In Flanders Fields Poem recited by Linus. And yes, we did read that correctly – it was in VHS format as I'm not finding it on DVD.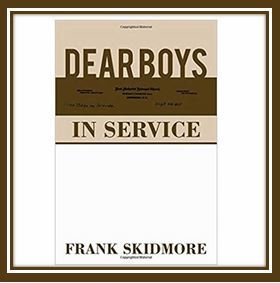 In addition, today I am reflective in remembering how appropriate and special it is for the beautiful book,  Dear Boys In Service by Frank Skidmore.
I'm including again this year – "In case you are trying to remember the difference between Memorial Day and Veterans Day, I'm including this from my 2015 Veterans Day blog post which quoted an email from a friend: "Veterans Day is often confused with Memorial Day (the fourth Monday in May), which honors American service members who died in service to their country or as a result of injuries incurred during battle. Veterans Day pays tribute to all American veterans, living or dead."
2018 Dates with Memorial Day Pictorial Postmarks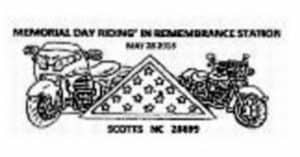 Details on all three of these Memorial Day pictorial postmarks instructions for requesting are available at the USPS Postal Bulletin Issue 22494, from 5-24-18.
First, there is the Village of Ellis Grove, New Athens, IL Pictorial Postmark May 27, 2018
Second, (and this is the image I'm showing in today's post), Memorial Day Riding In Remembrance Station, Scotts, NC Pictorial Postmark May 28, 2018
Third, over at the Penfield Homestead Museum, 150 Years of Memorial Day Station, Ticonderoga, NY Pictorial Postmark May 30, 2018
In conclusion, today I'm closing as I have done on other solemn occasions, with revered silence.
---
Attribution & Thank you to the following who are referenced today
USPS Postal Bulletin listing above and image
AnchoredScraps.com daily blog posts: Veterans Day – November 11, 2015; Smithsonian National Postal Museum World War I Letters Exhibit excerpt, April 08, 2017; 5-23-2015 "In Flanders Fields"; 5-24-2015 Serving without the camera during WWII; 5-25-2015 Forever® Medal of Honor stamp debuts today; 5-30-2016 Memorial Day Service Cross Medals Stamps; 5-27-2016 Memorial Day Holiday Weekend; 4-09-2017 WWI Letters Dear Boys In Service by Frank Skidmore, Image; 5-29-2017 Memorial Day Flags on Parade 1991 FDC; and 5-26-2018 In Flanders Fields Poem recited by Linus