Today is National Handwriting Day 2020, January 23rd. Both the Museum of the American Revolution and the Lincoln Presidential Library have tweets celebrating #NationalHandwritingDay!
In case you are not familiar with the day, I'm including this from the Writing Instrument Manufacturers Association.   
"…January 23rd, 2020 marks the 43rd anniversary of National Handwriting Day. Established in 1977 on the birthday of one of America's most celebrated scribes, John Hancock, National Handwriting Day was created to acknowledge the history and influence of penmanship."
Museum of the American Revolution and Lincoln Presidential Library Tweets celebrating National Handwriting Day 2020
I'm including below each of their respective tweets along with images and text. Here's the first one.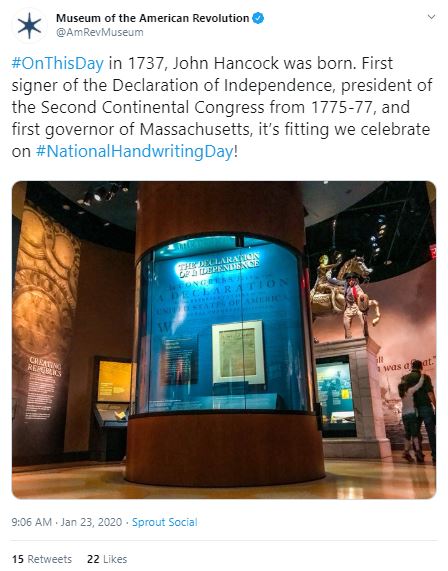 "Museum of the American Revolution @AmRevMuseum 9:06 AM · Jan 23, 2020 Twitter
#OnThisDay in 1737, John Hancock was born. First signer of the Declaration of Independence, president of the Second Continental Congress from 1775-77, and first governor of Massachusetts, it's fitting we celebrate on #NationalHandwritingDay!"
And here's the second one.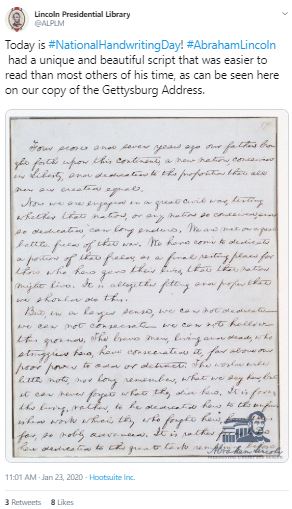 "Lincoln Presidential Library

@ALPLM 11:01 AM · Jan 23, 2020 Twitter


Today is

#NationalHandwritingDay

!

#AbrahamLincoln

had a unique and beautiful script that was easier to read than most others of his time, as can be seen here on our copy of the Gettysburg Address."
Check out Zaner-Blose website celebrating National Handwriting Day today

Furthermore, you'll want to check out their website and its celebrating handwriting and the power of penmanship today, on National Handwriting Day!
Previous National Handwriting Day Blog Posts
It is my fifth year to be blogging about National Handwriting Day, and you'll notice there isn't one for 2015 – given I did not begin my AnchoredScraps blog until February 26, 2015.
Anchors Aweigh,  
Helen
---
Attribution & Thank you to the following who I am referencing today
Tweets listed above with links
Writing Instrument Manufacturers Association Celebrate National Handwriting Day on January 23rd, Jan 16, 2020, 08:00 ET
Zaner-Blose
AnchoredScraps
#SendACard #NationalHandwritingDay #WriteALetter