Today is the National Vietnam War Veterans Day 29 March. In 2017 it became an official annual Holiday by President Trump.
Currently, in the USPS Postal Bulletin, it is not mentioning a Pictorial Postmark for the National Vietnam War Veterans Day. I'm hoping in the next publication, which comes out in another week may include one, post-dated for today. I will definitely be checking back and seeing if one does get announced.
Before beginning, my thanks to Ellen, one of My Three Muses here at AnchoredScraps. If her name is sounding familiar it was just earlier this past week, we were looking at the 75th Anniversary of Iwo Jima ending. She is one of the volunteers I was referencing with the Brazos Valley WAA Special Challenge Coin in my blog post.

National Vietnam War Veterans Day 29 March
Here's a little background from Military.com.
"The holiday, officially known as National Vietnam War Veterans Day, was made official by Trump through the "Vietnam War Veterans Recognition Act of 2017," and encourages Americans to display the U.S. flag in honor of Vietnam veterans.

A similar holiday was previously observed on March 29, 2012, through a proclamation signed by then-President Barack Obama. That year marked the start of a 13-year-long celebration honoring Vietnam War veterans that runs through Veterans Day 2025.

In November 2017, Trump marked Veterans Day and the commemoration of the 50th anniversary of the Vietnam War by meeting with U.S. veterans in Vietnam…"
Also, Wikipedia is sharing why the holiday is on March 29th.
"March 29 was chosen as National Vietnam War Veterans Day because on March 29, 1973, Military Assistance Command, Vietnam (MACV) was disbanded and the last U.S. combat troops departed the Republic of Vietnam. The last unit was elements of MACV's Infantry Security Force (Special Guard), actually special couriers."
Vietnam Veterans Commemoration of the 50th Anniversary of Vietnam War
In addition, below is the proclamation. It shares about continuing the thirteen-year commemoration of the 50th Anniversary of the Vietnam War from 2012-2025. I'm including a link to the whitehouse.gov for ease of reading.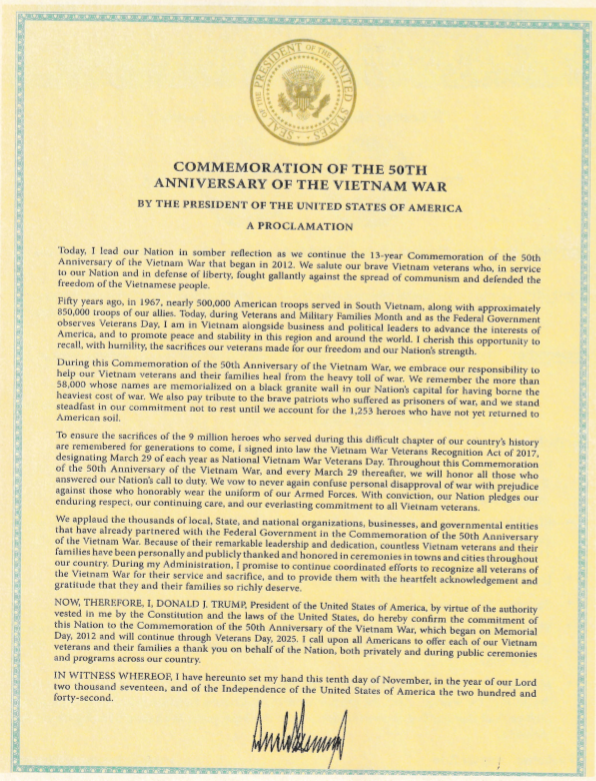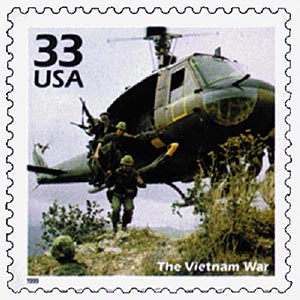 Furthermore, over at Mystic Stamp, the 1999 33c Celebrate the Century 1960s: The Vietnam War stamp is available. A mint stamp is $2.50. 
Before closing, my sincere thanks to Ellen for sharing this with me. Join me tomorrow as we kick off the final week of March 2020. On Wednesday we will be welcoming in April 2020.
Anchors Aweigh,  
Helen
---
Attribution & Thank you to the following who are referenced today
Mililtary.com Trump Makes Vietnam Veterans Day Official Holiday
Whitehouse.gov Presidential Proclamation Commemorating the 50th Anniversary of the Vietnam War, November 10, 2017
USPS The Vietnam War stamp #3188g
USPS Postal Bulletin, Issue 22542, 3-26-20
Mystic Stamp
Wikipedia National Vietnam War Veterans Day