Seeing the Pony Express Commemorative Bundle at Mystic Stamp Co for so reasonable a price is great fun. With the Shelter in place underway, I'm especially relying on corresponding with the mail!
First, a warm welcome to new AnchoredScraps email blog subscribers.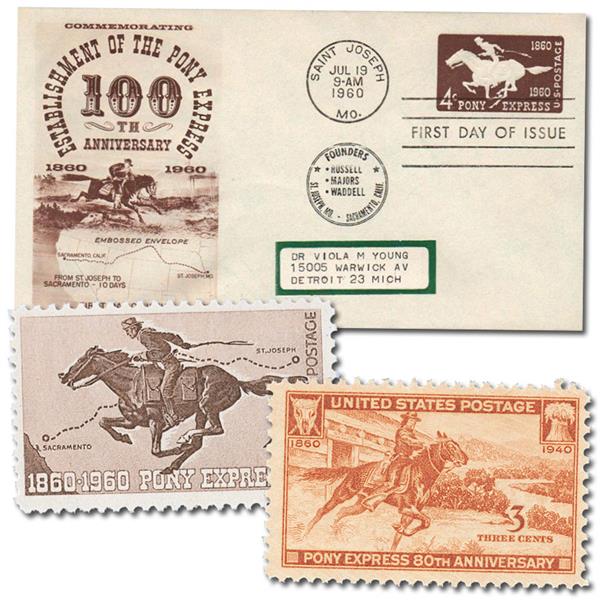 Next, looking back, I'm seeing one of my first blogs here over five years ago this month was on the Pony Express 1960 Commemorative Stamp (April 15, 2015). In my email inbox Friday, Mystic Stamp was sharing about the significance of April 3, 2020. 
"On April 3, 1860 (160 years ago today), the first westbound Pony Express trip left St. Joseph, Missouri.  This first delivery arrived in Sacramento, California, just 9 days and 23 hours later."
And further, the email was talking about the many Commemorative Pony Express Stamps and Covers.  
Pony Express Commemorative Bundle
Here is the image of the three items, all for $2.95!
"Own three Pony Express commemoratives in one easy order.  Includes the 80th-anniversary stamp, #894, and the sesquicentennial stamp, #1154.  Also included is a neat 100th anniversary First Day Cover – #U543."
Before closing, among expressions with some of my pen pal friends is saying the "Pony Express Enroute Today" (October 18, 2017).
In addition, I have a custom Pony Express Rubber Stamp by Terbear Collectibles (January 4, 2019) which includes Cooper on the design!
Have fun exploring the many options. Who knows you may pick up a new hobby, or expand your existing one!
See you tomorrow for my Sunday blog post. It is one I've already been working on today getting it ready. Until then.
Anchors Aweigh,  
Helen
P.S. The weather today was fantastic and included my writing four letters and walking them up the mailbox – with Cooper enjoying it too! Still making my way through my stack of pen-pal correspondence to reply and keep the letter-writing volley going back and forth.
---
Attribution & Thank you to the following who I am referencing today
Mystic Stamp Co
AnchoredScraps