Something to Write About Interactive ebook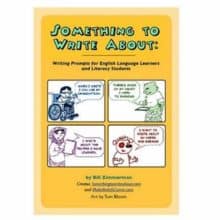 Waking up earlier than normal to rain this morning has found me enjoying the new Something to Write About Interactive ebook by Bill Zimmerman.  The official title is "Something to Write About Interactive E-Book of Writing Prompts for Students". Before dashing off for our usual workday whether it is work, school, family commitments, volunteer hecticness at this time of year, retirement living, and/or travel I hope you'll enjoy today's post, not only are we covering this new book but also Celebrating the many books of his we have covered here over the past three years at AnchoredScraps.
Something to Write About Interactive ebook
This is one of his many free e-books at his Make Beliefs Comix® site.
"Author Bill Zimmerman created this book of writing prompts over the years teaching English language learners and literacy students. Its intent is to help students discover their writers' voices and express the rich thoughts within them as they master the English language. Students are encouraged to write about their family, their friends, their old life and their new life, feelings, dreams and goals.

These writing prompts encourage students of all ages to write about the things in their lives that are meaningful to them–their childhood memories and family stories, the people they love and admire, their hopes for the future, their deepest beliefs. Zimmerman says, "I have always believed that everyone has a story to tell–if only someone would ask, if only someone would listen.'' This book gives teachers a way to draw out students' stories and help them communicate their thoughts through writing."
Celebrating Bill Zimmerman's Many Books!
If his name sounds familiar, there have been several blog posts on his many books here at AnchoredScraps. Today is my letter writing blog post #1014 and during the past three years, my post today makes my 12th post celebrating the many writing inspiration topics by Bill Zimmerman.
I'm including a listing by date sequence of when appearing here at AnchoredScraps.
"Lunchbox Letters", "Laptop Letters", & "Hummingbird Joy" – books by Bill Zimmerman 4-21-2015
Back to School (& Lunch Box Letters) 8-24-2015
"Make Beliefs: A Gift For Your Imagination" (book by Bill Zimmerman) 10-14-2015
Adding some humor to our letters 10-15-2015
365 Daily blog posts 2-25-2016
Pep Talks for When You Need Them ebook 9-06-2016
In time for Thanksgiving Hummingbird Joy ebook 11-22-2016
Adding to Incremental 2017 Letter Writing 1-05-2017
Presidential Inauguration Day Station 2017 1-20-2017
AnchoredScraps Second Year Blogging Daily Anniversary 2-26-2017
The New Yorker Back To School Cartoons Notecards 9-05-2017
Something to Write About Interactive ebook, 12-5-2017 <–Today's blog post!
My continuing thanks to Bill for sharing his writing talents with us.

 Anchors Aweigh,  
Helen
---
Attribution & Thank you to the following who are referenced today
Bill Zimmerman Book Cover as shown above image. Excerpt from Something to Write About on makebeliefscomix website  @MakeBeliefs4U
AnchoresScraps letter writing posts listing above.